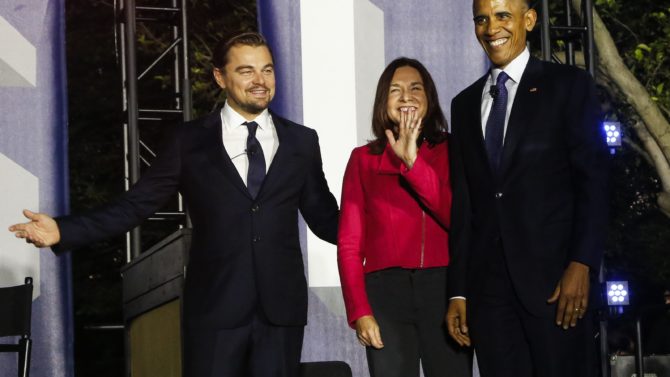 El actor Leonardo DiCaprio dio un discurso en la Casa Blanca en donde resaltó los daños que produce el cambio climático en el mundo y dijo que los que no creen que exista no deberían ocupar un lugar en la función pública.
El discurso fue parte de la conversación que el ganador del Oscar mantuvo el lunes 3 de octubre con el presidente Barack Obama y la científica climática Katharine Hayhoe, en el evento South by South Lawn (SXSL).
In a conversation with the president and Texas Tech atmospheric scientist Katharine Hayhoe, the star of The Revenant and Titanic struck the urgent tone of his upcoming documentary on the dangers of climate change, Before the Flood, which DiCaprio was at the White House to promote. The film premiered at the Toronto International Film Festival in September.
"Si no creen en el cambio climático, no creen en los hechos o en la ciencia o en verdades empíricas, dijo DiCaprio. "Y por lo tanto, en mi humilde opinión, no se le deben permitir ocupar cargos públicos".
"¿Nuestro planeta tiene la capacidad de regenerarse si hacemos las cosas bien? ¿O ha habido suficiente daño duradero que no se puede deshacer?", se preguntó.
VER TAMBIÉN Mira el tráiler del documental de Leonardo DiCaprio, 'Before the Flood'
El protagonista de The Revenant también llamó a la "avaricia corporativa de las industrias del petróleo y gas", pidiendo consejos sobre cómo los políticos pueden disputar a las grandes corporaciones en restringir sus políticas rentables.
Por su parte, Obama se refirió a los recientes hallazgos científicos sobre los niveles de dióxido de carbono en la atmósfera y expresó: "Estamos en el final más pesimista de lo que era posible".
Agregó que "la probabilidad inmediata de un impuesto sobre el carbono", que algunos expertos ven como la única política pública capaz de reducir las emisiones de carbono "está un poco lejos".