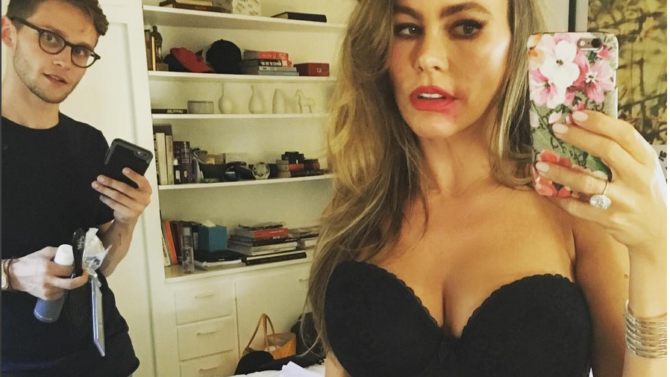 A sus 44 años recién cumplidos, Sofía Vergara posee uno de los cuerpos más envidiables de Hollywood,  el cual dejó ver este jueves a través de una foto que compartió en su cuenta oficial de Instagram en la que aparece en ropa íntima.
A juzgar por lo que la actriz escribió junto a la selfie, esta fue tomada en el set de su próxima película, The Brits Are Coming, proyecto al que se unió el pasado mes de agosto.
"Simplemente, otro día en la oficina", escribió la barranquillera junto a la imagen, seguido de los hashtags #vidaenelset #TheBritsAreComing.
Esta no es la primera vez que la estrella de Modern Family hace ruido en las redes al mostrar sus curvas. Hace solo unas semanas compartió una foto en bikini mientras disfrutaba del verano en una piscina.
FOTOS Las famosas disfrutan del verano en bikini
The Brits Are Coming es dirigida por James Oakley y protagonizada por Uma Thurman y Tim Roth, quienes interpretan a una pareja de estafadores que huye de Los Ángeles para evitar el pago de una deuda que tienen con una mafiosa, interpretada por Maggie Q. La pareja se dan cuenta de lo difícil que es evadir el pago, por lo que organizan una operación especial para robar joyas. Es acá cuando fortuitamente los criminales inmiscuyen a la exesposa del personaje de Roth, interpretada por Alice Eve. La estrella de Modern Family encarna a la amante del nuevo marido del personaje de Eve. Parker Posey y Stephen Dry también forman parte del elenco.
Aquí te dejamos un video con fotos detrás de cámara de la filmación en New York de The Brits Are Coming: