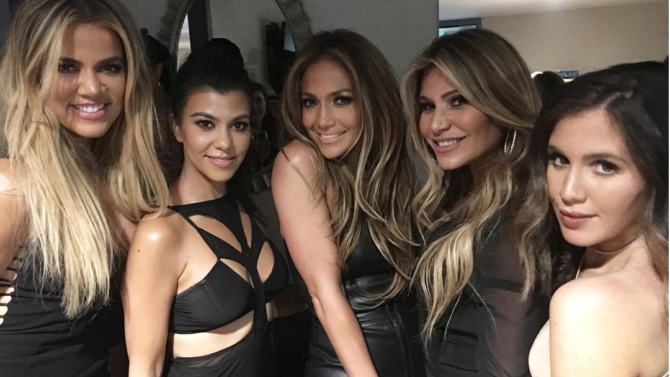 "Hagan reverencia a la reina JLo". Con este mensaje Khloé Kardashian acompañó una de las fotos que compartió en Instagram de su encuentro con Jennifer López, la noche del domingo en Las Vegas.
Khloé asistió con su hermana Kourtney al espectáculo de JLo en la ciudad del pecado, All I Have, y aprovecharon para pasar backstage a saludar a la actriz y cantante de origen puertorriqueño.
Pero las Kardashian no fueron las únicas famosas que aprovecharon su estadía en dicha ciudad para ir a disfrutar del show de JLo.
Luego de asistir a los Billboard Music Awards, que se celebraron la misma noche en esta ciudad, Jessica Alba, Meghan Trainor y Laverne Cox también se fueron a ver el concierto de la intérprete de "I Ain't Your Mama". Al final, todas se encontraron tras bambalinas y aprovecharon para tomarse la foto del recuerdo.
La actriz de Orange Is the New Black compartió un videíto de su encuentro con "la reina JLo".
"Y aquí [la] tienen, la reina, JLo. Gracias por ser una inspiración, por tu ética de trabajo, [por] toda la inspiración y corazón que mostraste esta noche, el glamour, gracias por darnos todo lo que tienes. #Respeto", escribió Cox.
Alba también mostró su emoción y la admiración que siente por JLo.
"Ella lo es todo, literalmente", escribió Alba junto a este video que muestra un aparte de la actuación de la artista.
La actriz invitó a sus seguidores a ir a ver el espectáculo de JLo, el cual describió como "increíble".
All I Have, que se presenta en el auditorio The AXIS del Planet Hollywood de Las Vegas, es la primera residencia de conciertos de López, y durará a lo largo del 2016.