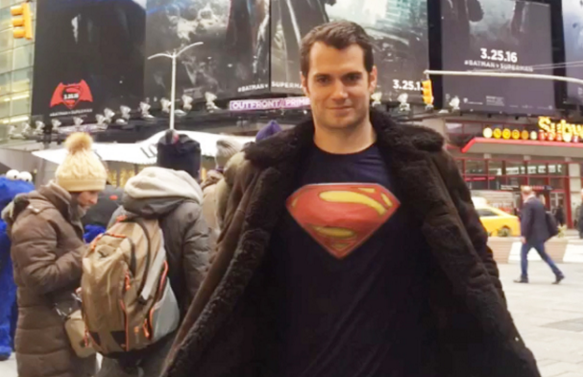 Parece ser que Superman sí puede pasar desapercibido después de todo. Henry Cavill, encargado de darle vida al famoso superhéroe en el filme Batman vs Superman: Dawn of Justice, se acomodó en las áreas más transitadas de la ciudad de Nueva York, vistiendo su legendario escudo azul y rojo. ¿ Y qué ocurrió? Nadie se dio cuenta.
El actor publicó un video en su cuenta de Instagram en el que se puede ver que está en diferentes puntos de Time Square, sin que nadie se inmutara. Quizás las personas lo confundieron con uno de los tantos personajes que corren por las calles de la Gran Manzana tomándose fotos con los turistas.
La película, que cuenta con la participación de Ben Affleck como Batman, Jesse Eisenberg como Lex Luthor y Gal Gadot como la Mujer Maravilla, se estrenará el 25 de marzo en los cines de Estados Unidos.
Batman V. Superman: Dawn of Justice llega a la pantalla grande bajo la dirección de Zack Snyder y cuenta también con la partición de actores como Lauren Cohan, Diane Lane y Jena Malone, entre otros. Según los productores, se espera que la película esté disponible en 2D, 3D y IMAX 3D.