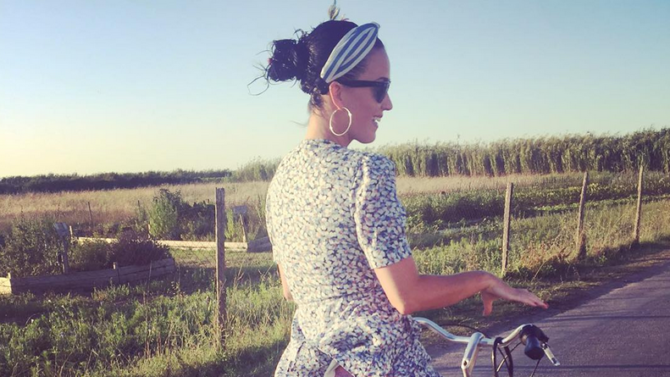 El viento le jugó una chanza a Katy Perry y ella se lo tomó muy deportivamente. En la foto que muestra a Perry montada en bicicleta, se aprecian las bragas de la cantante, y el pie de foto hace referencia su trasero. La frase sería algo como "sé que estoy un poco cachetona", pero esta es una interpretación nuestra, ya que la traducción no tiene mucho sentido en español.
Las últimas fotos que vimos de Orlando Bloom y Perry fueron en Cerdeña, donde el actor de "The Lord of the Rings" apareció como Dios lo trajo al mundo.  La cantante continúa de gira por Europa.
Una fuente cercana a la pareja le dijo a PEOPLE que ambos están siendo más reservados con su relación, al parecer las cosas van en serio.  Además, después de las fotos que aparecieron donde se ve a Orlando muy acaramelado con Selena Gómez, el actor debe estar cuidando mucho de no molestar a su novia.