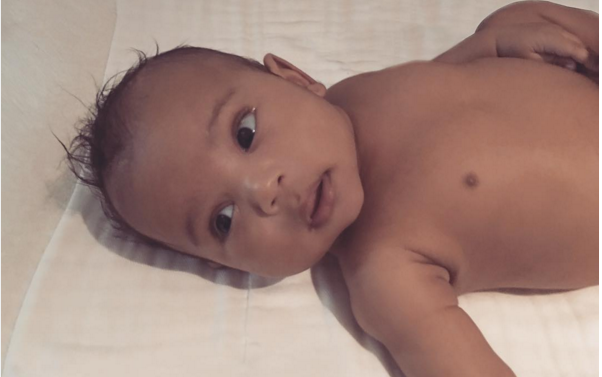 Kim Kardashian West compartió con sus más de 63 millones de seguidores en Instagram una nueva foto de Saint West, su hijito de tres meses. A diferencia de la primera foto, aquí el bebé sale bien despierto.

"Eres el sol de mi mañana cariño", escribió la orgullosa madre en la foto que puedes ver a continuación:

La socialité sabe cómo mantener a sus fanáticos sedientos de información sobre su vida y es que la famosa dosifica muy bien cada cosa que comparte de su retoñito.
Primero lanzó una foto llena de emoticones, que representaban a su familia, con la que le dio la bienvenida al mundo a Saint West:
Luego llegó la imagen donde se pudo ver la manito de Saint agarradita de la mano de su hermanita North.
El 22 de febrero Kim publicó lo que se convirtió en la primera imagen oficial del bebé. En esa fecha Robert Kardashian, el padre de Kim, hubiese cumplido 72 años. "Se que no hay nada en el mundo que le hubiese gustado más que conocer a sus nietos, así que quería compartir una foto de Saint con ustedes", fue el texto que acompañó la fotografía.
¿Ves que Kim sabe cómo entretener a su público?
Saint West nació el 5 de diciembre en Los Ángeles. Es el segundo hijo de la estrella de Keeping Up With the Kardashian con Kanye West. Su primera hija, North, nació en junio de 2013.