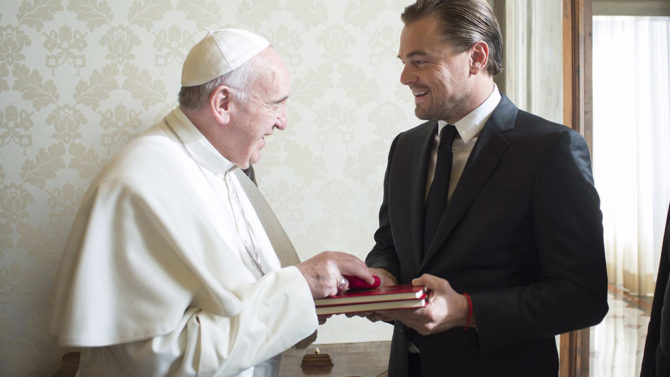 Leonardo DiCaprio se reunió con el papa Francisco la mañana de este jueves 28 de enero. Acompañado por su padre George DiCaprio, el actor de The Revenant platicó con el Pontífice por 15 minutos en el Vaticano.
De acuerdo a The Vatican, página oficial de este organismo eclesiástico, el intérprete y el Vicario de Cristo abordaron varios temas, incluyendo el del cambio climático. DiCaprio le señaló al Padre Santo sobre su fundación y le explicó los esfuerzos que la misma realiza para luchar contra este fenómeno mundial. El nominado al Oscar le pidió al papa que trabajaran juntos en esta importante tarea.
Luego de la reunión, DiCaprio le regaló al papa un libro del pintor holandés Hieronymus Bosch y le entregó un cheque, diciéndole que donara el dinero a la obra de caridad "más cercana a su corazón".  El encuentro fue planificado por Milutin Gatsby, encargado de la "Leonardo DiCaprio Foundation". Al despedirse, el artista besó el anillo del líder de la iglesia Católica.
Antes de visitar al papa, DiCaprio estuvo en tierras mexicanas junto a Alejandro González Iñárritu, director de The Revenant, para presentar esta emocionante película nominada al premio Oscar, ceremonia que se llevará a cabo el próximo 28 de febrero.