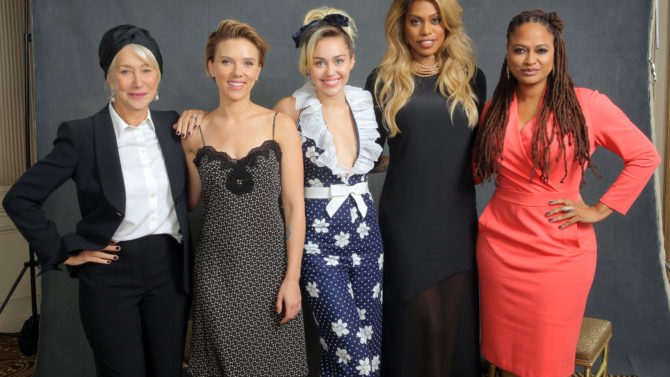 Variety celebró el evento Power of Women en Los Ángeles, en el que se festejó a las mujeres filántropas de la industria y sus respectivas causas. Las homenajeadas fueron Laverne Cox (National Coalition of Anti-Violence Programs), Miley Cyrus (Happie Hippie Foundation), Ava DuVernay (1000 Black Girl Books), Helen Mirren (The Stuttering Association for the Young), y Scarlett Johansson.
Mirren habló sobre la igualdad de género en el ámbito laboral. "En unas semanas, veremos un ejemplo de la vida real… cuando las mujeres voten. Y ojalá que cambien el panorama. Esto es muy importante, es un momento decisivo".
Cyrus admitió que se sintió abrumada en el podio debido a las" vibraciones ruines que rodean el poder", explicó, y " sí, eso es por Donald Trump".
La cantante terminó su discurso diciendo: "Solo quiero decir que cualquier persona que se haya sentido diferente o que no encaja, que tome esa victoria y que sienta que no está sola".
Por su parte, Johansson habló sobre los derechos al aborto. "El derecho de una mujer a elegir qué hacer con su cuerpo no debe ser sólo una cuestión de derechos de la mujer. Es el año 2016 y se trata de una cuestión de derechos humanos. El derecho de una mujer a elegir es profundamente personal y no debe ser una parte de la plataforma política de nadie. No tiene nada que ver con la política en lo más mínimo".