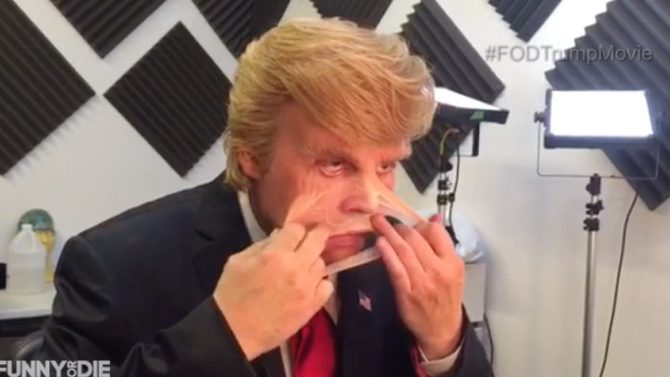 Probablemente este sea uno de los videos más raros que veas hoy, pero creemos que no te puedes perder el momento en el que Johnny Depp se quita el maquillaje que lo convirtió en Donald Trump para un cortometraje de Funny Or Die.
En un video publicado por el portal el 19 de febrero, Depp se mira en el espejo por última vez luciendo como el multimillonario, y después inicia el proceso de quitarse el disfraz y el maquillaje que lo hicieron ver igualito a Trump.
En la película, titulada Funny or Die Presents Donald Trump's The Art of the Deal: The Movie, basada en el bestseller del magnate titulado Art of the Deal, Depp se convierte en el precandidato presidencial.
"Como nos movemos tan rápido, usualmente solo le ponemos pelucas a los actores, pero Johnny trajo a todo un equipo de profesionales para que le dejaran el cabello igual al de Trump", aseguró Owen Burke, editor en jefe de FOD.
El corto, disponible aquí, se estrenó el 10 de febrero y cuenta con las participaciones de otros actores como Ron Howard, Patton Oswalt, Jacob Tremblay y Jack McBrayer.