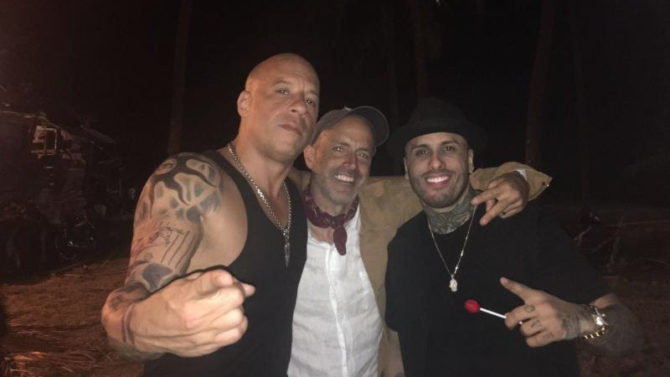 Nicky Jam
se fue derechito al set de la tercera parte de
xXx
, película donde debutará como actor, y donde compartirá escena con
Vin Diesel
. Para emocionar a todos sus seguidores, el cantante puertorriqueño publicó en su Instagram un par de videos donde sale acompañado del protagonista de
The Fast & the Furious
, quien intenta hablar en español. No te lo pierdas a continuación:
Jam
grabó sus respectivas escenas este fin de semana. La película será estrenada en cines en 2017. Al parecer, el reggaetonero fue elegido entre una gran lista de famosos que querían participar en el nuevo capítulo de la popular saga de acción.
La primera parte de xXx se estrenó en 2002 y recaudó más de $270 millones de dólares a nivel mundial. En 2005 se estrenó una segunda parte llamada xXx: State of the Union protagonizada por Ice Cube.
Por otro lado, Nicky Jam se encuentra celebrando por todos lados, no solo por su incursión al cine, sino también por el éxito de su más reciente sencillo, titulado "Hasta El Amanecer", el cual está a punto de alcanzar las 200 millones de reproducciones en YouTube con tan solo dos meses de haber salido al mercado, un récord histórico en el ámbito del reggaetón según información recogida por una nota de prensa oficial del cantante.
El próximo álbum del intérprete de música urbana será lanzado en 2016.