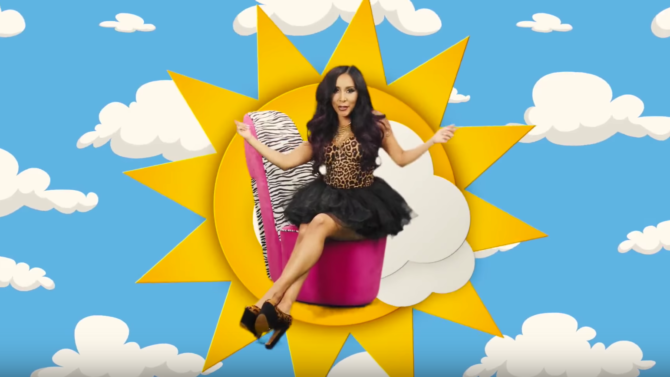 Nicole 'Snooki' Polizzi baila y canta como una rapera en el video musical para su primer sencillo, "Yung Mommy". Y no lo hace sola, sus pequeños hijos Lorenzo y Giovanna también participan.
La exparticipante y estrella del reality The Jersey Shore, de 28 años, despliega su habitual energía y desparpajo delante de un fondo de pantalla que va cambiando de paisajes y colores, mientras  al inicio carga en sus espaldas a su hijo vestido de superhéroe.
VER TAMBIÉN Justin Bieber lanza "Cold Water", su nueva canción con Major Lazer [VIDEO]
"Aquí está. Mi primer video musical. He decidido ser un ass y grabar una canción sobre mi vida y mi vida como mamá, y he filmado este divertido video. Espero ganar un Grammy por esto", escribió 'Snooki' en su cuenta de Instagram donde compartió el video publicado en YouTube.
Uno de los fragmentos de la canción dice: "Solía ser tan salvaje, era el alma de la fiesta. Ahora que soy toda una adulta me llaman Mami".
Vestida con un leotardo con estampado animal y tutú, Polizzi menciona además a su esposo y padre de sus dos hijos, Jionni LaValle, quien también participó en The Jersey Shore.
¿Te gusta "Snooki" como rapera?