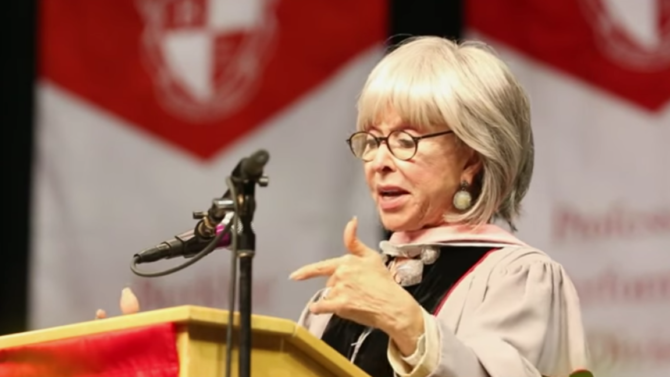 La legendaria actriz y cantante Rita Moreno fue reconocida el domingo 8 de mayo con el título de doctora honoris causa de música en el Berklee College of Music, en Boston (MA). Durante el evento, la también bailarina puertorriqueña ofreció un discurso de una manera muy particular.
Moreno, con toga puesta y ante aproximadamente 900 estudiantes de 68 países, decidió "rapear" su discurso. Durante su rap invitó a los graduados de la reconocida institución a tener "audacia, valor, agallas y perspicacia".
"Amigos, digo que escriban sus partituras más que por popularidad. Vivan la vida con claridad", agregó la artista de 84 años, y quien se inspiró en el musical Hamilton (el cual es completamente en rap) para hacer este discurso.
Moreno fue reconocida por Berklee ya que es la única latina que ha ganado los premios más importantes del mundo del espectáculo: tiene un Oscar, un Globo de Oro, un Tony y un Grammy.
Rita saltó a la fama en 1961, cuando interpretó el papel de "Anita" en la película West Side Story. En sus trabajos más recientes se encuentra su participación en la serie Jane The Virgin. Actualmente se prepara para comenzar a filmar One Day at a Time, una nueva serie exclusiva para Netflix.
Junto a Moreno, Berklee reconoció también a Ronald y Ernie Isley, líderes de la banda de funk y soul Isley Brothers, al cantautor brasileño Milton Nascimento y a Lucian Grainge, directora del grupo discográfico Universal.