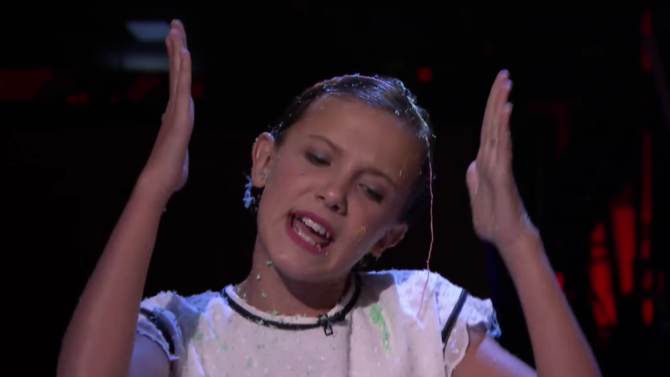 Millie Bobby Brown,  la joven actriz encargada de darle vida al personaje de "Eleven" en la serie Stranger Things, demostró que uno de sus talentos escondido es cantar como Nicki Minaj.
Durante su visita al programa The Tonight Show, Brown confesó saber que puede "rapear" a la perfección los versos de la cantante en el single de Kanye West, "Monster". Acto seguido, Jimmy Fallon pidió una prueba de esto, y aquí te la compartimos:
Netflix confirmó ayer que en 2017 tendremos la segunda temporada de la exitosa propuesta escrita y dirigida por los hermanos Matt y Ross Duffer. Este teaser no nos ofrece muchos detalles, pero presenta los nombres de los nueve capítulos que tendrá la nueva entrega.
La serie —protagonizada por Millie Bobby Brown, Gaten Matarazzo, Caleb McLaughlin y Noah Schnapp— rinde homenaje al Hollywood de los años 80, con referencias a trabajos de StevenSpielberg, Stephen King y George Lucas, entre otros grandes del cine.
Stranger Things se estrenó en julio de este año, y rápidamente se convirtió en una de las series originales de Netflix más vistas de todos los tiempos. Según la compañía Symphony Advanced Media, es la tercera serie más vista de la plataforma, solo por detrás de Fuller House y la cuarta temporada de Orange Is the New Black.
VER TAMBIÉN: Gaten Matarazzo, de 'Stranger Things', quiere tomarse fotos con sus fanáticos