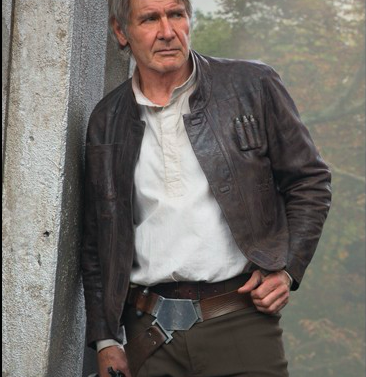 La mítica chaqueta que usa Han Solo (Harrison Ford) en Star Wars: The Force Awakens está en subasta y podría ser tuya si tienes unos 34.000 dólares (precio actual de la pieza) que puedas gastar en ella.
VER TAMBIÉN Harrison Ford revela que su hija sufre de epilepsia en emotivo discurso
 La ya clásica chaqueta de cuero marrón del contrabandista más famoso de esta galaxia "muy muy lejana" permanecerá en subasta en el portal If Only hasta el 11 de abril. La prenda, hecha a la medida, está autografiada por el actor e incluye un certificado de autenticidad de la productora Lucasfilm.
El dinero obtenido con la venta de esta prenda irá destinado al Langone Medical Center de NYU y FACES (Finding a Cure for Epilepsy and Seizures), entidad sin fines de lucro que investiga el tratamiento y las nuevas curas para la epilepsia, enfermedad que padece la hija de Ford, Georgia.
El actor de 73 años espera que la venta de esta pieza de ropa sea de gran ayuda para las investigaciones de esta enfermedad neurológica: "Es un tema que me toca de cerca y, contrario al cínico de Han Solo, tengo un buen presentimiento sobre esto", sentenció.