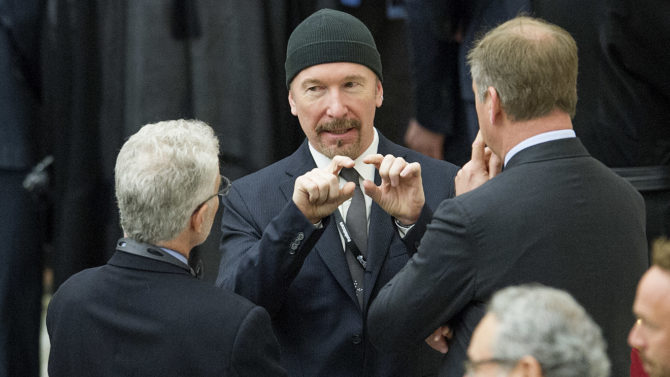 El sábado 30 de abril la banda de rock irlandesa U2 se anotó otra victoria gracias a una hazaña perpetrada por The Edge, guitarrista de la famosa agrupación. Resulta que el músico tuvo la oportunidad de tocar en la Capilla Sixtina del Vaticano, ubicada en Roma, Italia, lo que lo convierte en el primer rockero que se presenta dentro de este importante lugar, así lo reportó Reuters.
Si quieres una probadita de lo que pasó, acá la tienes:
Como se puede ver en el video, el cual fue grabado por uno de los afortunados asistentes, el set de The Edge fue enteramente acústico e incluyó canciones de la discografía de U2 como "Yahweh" y "Walk On", así como una versión de "If It Be Your Will" de Leonard Cohen.
Al hablarle a la audiencia, The Edge no dejó de mencionar tácitamente a Bono, vocalista de U2: "Cuando me preguntaron si quería convertirme en el primer artista comtemporaneo en tocar en la Capilla Sixtina no supe qué decir porque usualmente -en la agrupación- está este otro individuo quien siempre canta".