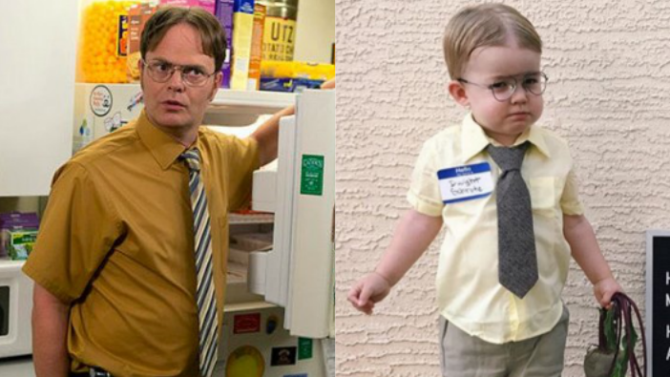 Si eres fanático de la serie The Office, sabes que el personaje de Dwight Schrute (interpretado por Rinn Wilson) es simple y sencillamente icónico. Una prueba de eso es que su compañera de reparto, Jenna Fischer disfrazó a su hijo de este complicado vendedor de papel.
Fischer, quien en la serie interpretó a la recepcionista (que luego pasó a ser vendedora) Pam Beesley, compartió una foto en su cuenta de Twitter donde se puede ver a su hijo, Weston Lee Kirk, vestido exactamente como Dwight.
Para completar el disfraz, creó un letrero explica cómo se describe este personaje: "Trabajador, macho alfa, jack hammer, implacable e insaciable". Además, lleva en su mano una remolacha, que hace referencia al hecho de que Dwight se desvive por su granja.
The Office estuvo al aire desde marzo de 2005 hasta mayo de 2013. Tuvo un total de nueve temporadas. La producción contaba el día a día de los empleados de una compañía de papel ficticia llamada Dunder Mifflin.
Actualmente, Fischer forma parte de la serie de NBC, The Mysteries of Laura. Mientras que Rinn Wilson prestó su voz para el personaje de Gargamel en la película Smurfs: The Lost Village, la cual se estrenará en 2017.