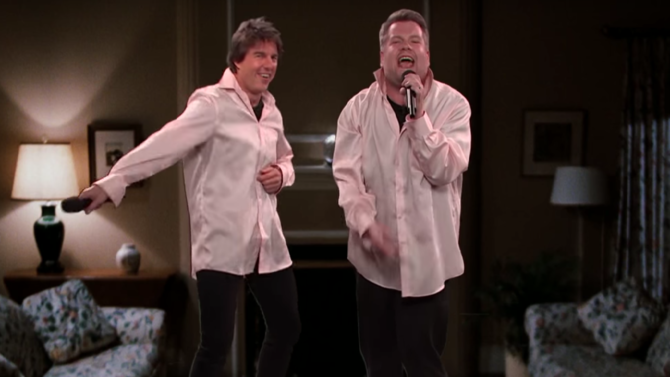 En un divertido video de 9 minutos, Tom Cruise y James Corden recrearon la extensa carrera del actor durante su visita al popular The Late Late Show, cita que tuvo lugar el miércoles 19 de octubre.
El presentador británico sirvió de acompañante al protagonista de Jack Reacher: Never Go Back, quien trajo a la vida una vez más a los personajes más emblemáticos que ha interpretado a lo largo de su carrera cinematográfica.
La clásica Top Gun fue la primera interpretación; y claro está que no podrían faltar las chaquetas de piloto. Con rápidos cambios de vestuario y escenografía, le siguieron las películas Days of Thunder, Rain Man , War of the Worlds y Minority Report.
Cruise, de 54 años, junto a Corden, interpretaron también las escenas más memorables de las cintas Mission: Impossible, Mission: Impossible II y Mission: Impossible III.
A continuación puedes ver el gracioso video, que no podía finalizar sino con la famosa escena de Risky Business.
Si quieres ver más de Tom Cruise, no te pierdas el estreno de Jack Reacher: Never Go Back, en cines el viernes 21 de octubre.