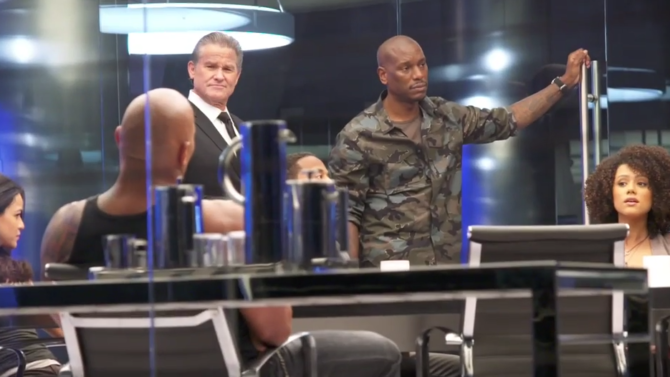 Fast and Furious 8, dirigida por F. Gary Gray (Straight Outta Compton), se está filmando en estos instantes y promete ser uno de los más grandes episodios de esta longeva franquicia. Aunque recientemente hemos visto a algunos miembros del elenco, como es el caso de Vin Diesel, pasear por Cuba, una de las locaciones de esta filme, este viernes 27 de mayo se ha dado a conocer el primer video detrás de cámaras donde se puede apreciar al elenco completo, por primera vez, trabajando en esta cinta de acción.
VER TAMBIÉN Así vivió Vin Diesel el desfile de Chanel en Cuba [FOTOS]
En el clip que puedes ver a continuación puedes ver a Diesel, Michelle Rodríguez, Kurt Russell, Dwayne Johnson, Tyrese Gibson, Nathalie Emmanuel, Ludacris, Scott Eastwood y Jason Statham cocinando lo que será este explosivo largometraje:
Esta será la séptima secuela de la franquicia, pero eso no ha evitado que la saga llame la atención de grandes actores. Ese es precisamente el ejemplo de Charlize Theron, quien se unió a este nuevo capítulo de la historia para interpretar a la villana que le hará la vida de cuadritos a Diesel y compañía en esta aventura.
VER TAMBIÉN 'The Fast and The Furious' regresa a cines para celebrar su 15 aniversario
Si todo marcha como debe Fast and Furious 8 se estrenará internacionalmente el 12 de abril y en Estados Unidos el 14 de ese mismo mes.