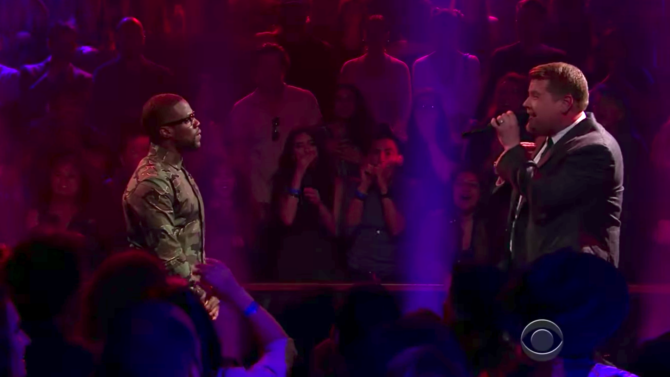 Kevin Hart arrasó con James Corden en una épica batalla de rap. Eso es todo.
Durante la más reciente edición de Drop the Mic, uno de los segmentos del programa The Late Late Show with James Corden, el animador y el comediante se enfrentaron en un duelo de improvisación. Fue en ese momento en que, aunque Corden usó todo su repertorio, que Hart dejó claro que puede rapear tan bien como actúa y hace stand up comedies.
El comediante no es el primero en enfrentar a Corden en una batalla de rap, pues Anne Hathaway, David Schwimmer y Rebel Wilson también fueron de la partida de que pueden defenderse muy bien a la hora de improvisar.
Hart fue al programa de la cadena CBS como parte de la gira de promoción de la película Central Intelligence, la cual se estrenará en los cines de Estados Unidos este viernes 17 de julio.
En Central Intelligence Hart comparte el papel protagónico con Dwayne "The Rock" Johnson, en la historia de dos amigos de secundaria que se reencuentran 10 años después de la graduación.
Hasta el momento la película ha recibido buenas críticas.