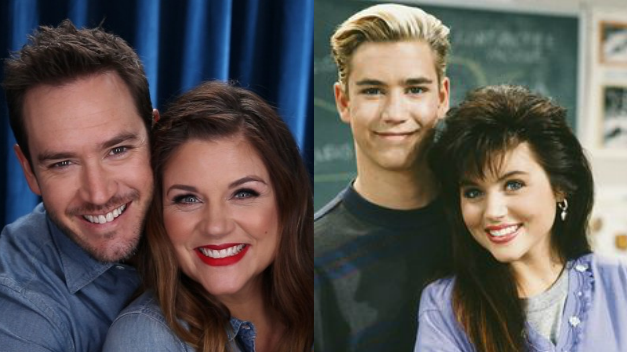 En la década de los noventa, fueron "Zack Morris" y "Kelly Kapowski" quienes se encargaron de enseñarle a los adolescentes todo lo que debían saber en cuanto a los "amores de escuela". En el show televisivo Saved by the Bell, Tiffani Thiessen y Mark-Paul Gosselaar son los actores que le dieron vida a estos dos estudiantes perdidamente enamorados.
Este lunes, 2 de mayo, salieron a la luz algunas fotos de la reciente reunión de Thiessen y Gosselaar. Esto debido a que el actor será uno de los invitados al programa de cocina que modera la actriz, Dinner at Tiffani's, show que forma parte de la programación de Cooking Channel. El episodio en el que sucede este reencuentro se transmitirá el miércoles, 11 de mayo, a las 8 p.m. ET.
En temporadas anteriores, Thiessen contó con la participación de otros integrantes de Saved by the Bell: Elizabeth Berkley (Jessie Myrtle) y Mario López (A.C. Slater).
VER TAMBIÉN: Abren restaurante temático de 'Saved by the Bell'
Sin embargo, aunque Zack y Kelly siempre serán parte de una de nuestras parejas favoritas, actualmente Tifanni, de 42 años, está casada con el actor Brady Smith; mientras de Mark-Paul , también de 42 años, contrajo nupcias con Catriona McGinn (con quien tiene dos hijos).