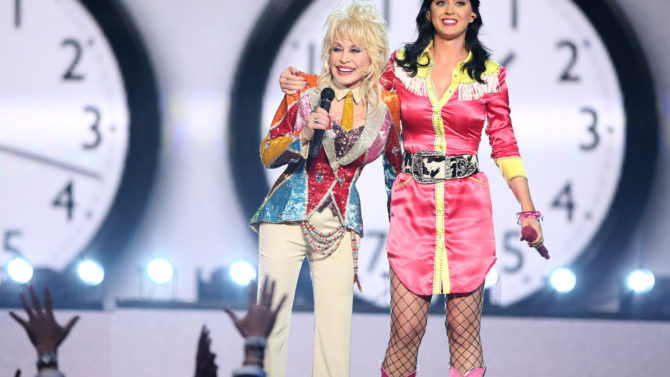 Katy Perry tuvo la oportunidad de cantar junto a Dolly Parton, una de las más grandes artistas del country, durante los American Country Music Awards 2016, galardones que se llevaron a cabo este domingo 3 de abril.
Crédito: giphy/CBS
Perry también tuvo el honor de entregarle a Parton el premio Tex Ritter por el filme Dolly Parton's Coat of Many Colors, el cual fue transmitido a través de NBC en diciembre de 2015. La academia de la música country expresó, a través de un comunicado de prensa, que este galardón celebra a todas aquellas películas que utilizan el género como elemento central del filme.
"Este es un gran honor y me gustaría agradecerle a la Academia de la Música Country por este premio", fueron algunas de las palabras que la cantante dijo al tomar al escenario.

"Yo conocí a Tex Ritter, lo amaba, eso hace que este premio sea dos veces más especial", añadió. "La canción 'Coat of Many Colors' representa un momento muy especial en mi vida y el hecho de que a tanta gente le haya encantado realmente me toca".

Después de terminar su discurso, Parton y Perry realizaron un medley de algunas de las canciones clásicas de la intérprete de música country, incluyendo "Coat of Many Colors," "Jolene" y "9 to 5".