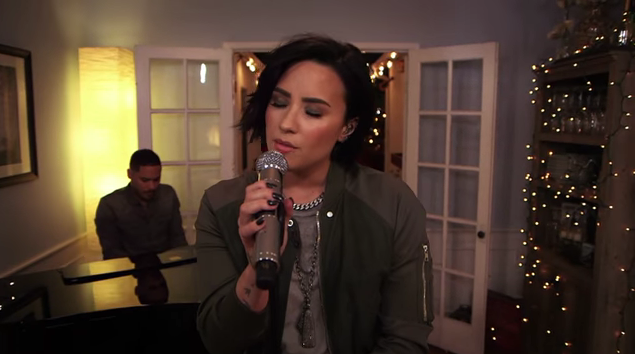 Demi Lovato llegó a The Late Late Show with James Corden para interpretar una de sus más poderosas y recientes canciones: "Stone Cold". La participación de la artista en el programa de televisión fue tan increíble que se volvió viral en internet a solo horas de haber sido estrenada.
Acompañada de un pianista, la novia de Wilmer Valderrama cantó el tema como parte de la celebración del primer año de Corden animando este popular talk show. La presentación se grabó en la sala de una casa como parte de una sección llamada Someone's Dining Room. 
Lovato estrenó el video oficial de "Stone Cold" en febrero. Este es el cuarto sencillo que se desprende del más reciente disco de la también actriz titulado Confident.
Esta misma semana, la artista, quien adquirió fama al formar parte del elenco de Disney Channel, celebró a través de su cuenta de Twitter el hecho de llevar cuatro años sobria. Lovato entró a un centro de rehabilitación en 2010, a los 18 años, para ser tratada por su adicción al alcohol y a las drogas, y por un desorden alimenticio que estaba atravesando en ese momento.
El 15 de marzo, y ahora con 23 años, compartió su felicidad con sus casi 35 millones de seguidores a través de la red social.