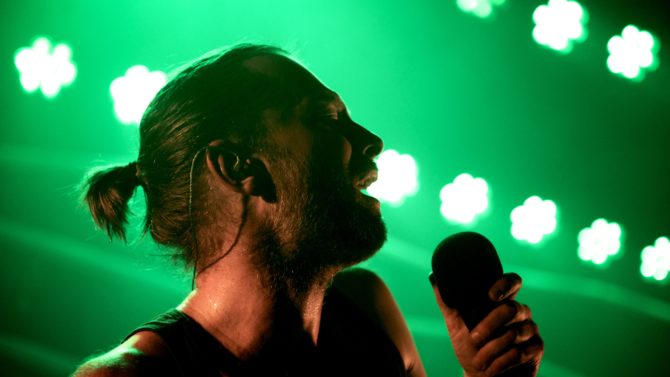 La larga espera de los fanáticos de Radiohead ha finalizado oficialmente. La agrupación lanzó su nuevo trabajo discográfico titulado A Moon Shaped Pool este domingo 8 de mayo.
El noveno disco en estudio de esta reconocida banda británica de rock alternativo hizo su debut oficial a través de la plataforma de Apple Music, 30 minutos antes de lo pautado. Los fans de la banda también pueden visitar el sitio amoonshapedpool.com, donde podrán escuchar el nuevo disco y además tendrán la oportunidad de pre-ordenar CDs de este nuevo trabajo, que llegará a las tiendas físicas el próximo 17 de junio.
Radiohead ya había estrenado dos sencillos de este nuevo álbum: "Burn the Witch" y "Daydreaming", que fueron compartidos en la web para calmar un poco las ansias del público. Este último tema también contó con un video, que fue dirigido por Paul Thomas Anderson y protagonizado por el vocalista de la banda, Thom Yorke.
Aquí puedes disfrutar del video de "Daydreaming":
Esta reconocida banda no había lanzado un nuevo álbum desde The King of Limbs, de 2011. Ahora, para celebrar este nuevo trabajo discográfico, Radiohead se embarcará en una gira mundial que comienza el próximo 20 de mayo en Amsterdam.
A continuación, el track list oficial de A Moon Shaped Pool:
1. "Burn The Witch"
2. "Daydreaming"
3. "Decks Dark"
4. "Desert Island Disk"
5. "Ful Stop"
6. "Glass Eyes"
7. "Identikit"
8. "The Numbers"
9. "Present Tense"
10. "Tinker Tailor Soldier Sailor Rich Man Poor Man Beggar Man Thief"
11. "True Love Waits"