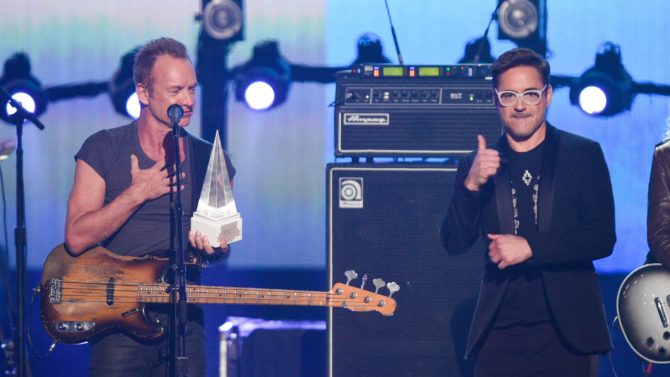 El cantante Sting recibibió el premio honorífico "The American Music Award of Merit" durante los American Music Awards 2016 que se llevaron a cabo la noche del domingo 20 de noviembre en el Microsoft Theater en Los Ángeles, California. Robert Downey Jr. fue el encargado de presentar el premio.
Antes de aceptar el galardón, Sting cantó un medley de sus éxitos junto a The Police, como "Message in a bottle" y "Every Breathe You Take".
El cantante agradeció el reconocimiento, y expresó su deuda con la música americana. Dijo que como migrante, sintió la influencia de uno de los productos de exportación más importante de la industria, el rock and roll. Además expresó que la inclusión, la mezcla de culturas, de ritmos y de pasión hacenn que Estados Unidos sea el mejor país del mundo. "Mi alma musical es americana", concluyó.
El galardón recibido por Sting reconoce a artistas que, de forma extraordinaria, han realizado contribuciones en la industria musical. La última vez que se otorgó este premio fue en 2008 y lo recibió la cantante Annie Lennox.
La carrera de Sting es muy amplia ya que desde 1989 ha lanzado 14 discos como solista. Como si fuera poco, ha vendido cerca de 100 millones de álbumes, incluyendo sus discos con la banda The Police y los que ha lanzado como solista.
VER TAMBIEN Ellas en la alfombra roja de los American Music Awards 2016
Además, en 2015 cantante recibió una nominación al Premio Tony en la categoría de "Best Original Score" por su musical en Broadway The Last Ship. Pero, eso no ha sido lo único ya que ha recibido diez Grammy, dos Brits, un Golden Globe y ha estado nominados tres veces al Oscar.
Anteriormente, Garth Brooks, Johnny Cash, Gloria Estefan, Whitney Houston, Janet Jackson, Michael Jackson, Billy Joel, Bon Jovi, Paul McCartney, Willie Nelson, Prince y Frank Sinatra también fueron honrados con "The American Music Award of Merit".
La modelo Gigi Hadid y el actor y comediante Jay Pharoah fueron los conductores de la ceremonia de premiación en la que Heidi Klum, Karlie Kloss, Zoe Saldana, Teyana Taylor, Steven Yeun, Robert Downey Jr., Taraji P. Henson, Ciara, Julianne Hough, Matt Bomer y Nina Dobrev presentaron a los ganadores en las diferentes categorías.
VER TAMBIEN Ellos en la alfombra roja de los American Music Awards 2016
Los ganadores de los American Music Awards son elegidos en su totalidad por los fanáticos, quienes votan por sus cantantes favoritos en una gran cantidad de categorías.