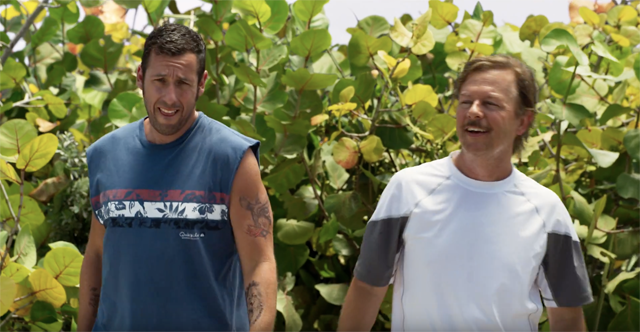 The Do-Over, protagonizada por el actor Adam Sandler llegará a Netflix el 27 de mayo.
El servicio de streaming anunció que Sandler protagonizará esta comedia junto a David Spade (conocido por la película Joe Dirt). En esta nueva cinta, este dúo interpretará a Max y Charlie, dos amigos que están "cansados de sus vidas triviales".
Max y Charlie se reencuentran para celebrar los 25 años de su graduación del colegio. Dicha reunión despierta en ellos cierta añoranza por el pasado, así que deciden darle un nuevo giro a sus vidas y empezar desde cero. Para lograr el cometido, fingen sus muertes y asumen nuevas identidades.
El filme también cuenta con la participación de Paula Patton, Kathryn Hahn, Luis Guzmán, Michael Chiklis, Sean Astin, Catherine Bell, Natasha Leggero, Nick Swardson, Torsten Voges, Renee Taylor y Matt Walsh. El proyecto está dirigido por Steven Brill, y cuenta con un guión de Kevin Barnett y Chris Pappas.
VER TAMBIÉN 20 películas que siempre recordaremos de Reese Witherspoon
The Do-Over es la segunda de las cuatro películas que Sandler hará para Netflix. The Ridiculous Six fue la primera y se estrenó en diciembre de 2015.