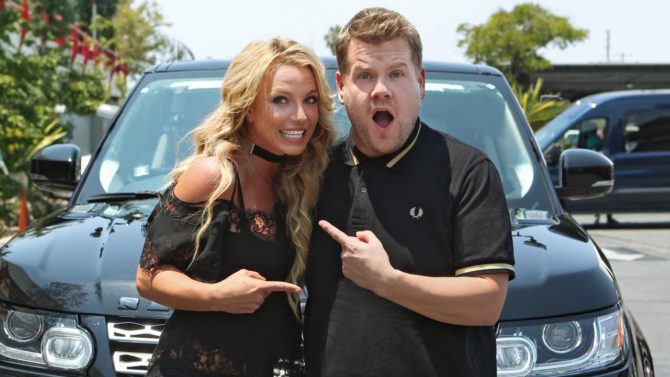 Britney Spears estará en Carpool Karaoke, el popular segmento de television que forma parte del programa de CBS The Late Late Show with James Corden.
El video en el que la cantante y el famoso animador cantarán mientras realizan un recorrido en automóvil, saldrá al aire el próximo 25 de agosto. Hasta el momento, sin embargo, no se ha informado cuáles temas interpretarán.
Se espera que el más reciente álbum de Spears salga a la venta el próximo 26 de agosto. La ganadora de varios Grammys ha vendido aproximadamente 100 millones de discos a lo largo de su carrera.
Corden, por su parte, ha contado con la participación de varios famosos en su popular segmento televisivo. La última en acompañarlo fue la primera dama de Estados Unidos, Michelle Obama. Ese video ya cuenta con casi 40 millones de "views" en YouTube.
Previamente, en Carpool Karaoke participaron celebridades del calibre de Adele, Lin-Manuel Miranda y Gwen Stefani, entre otros.
Tan solo el video de Adele en Carpool Karaoke cuenta con 121 millones de "views" en YouTube.
Ha sido tanta la popularidad de Carpool Karaoke, que el animador del show y el productor Ben Winston se encuentran produciendo un programa de televisión basado en el popular sketch.
Las expectativas que rodean a este programa son altas, ya que los videos del segmento que están en YouTube han sido reproducidos más de 400 millones de veces.