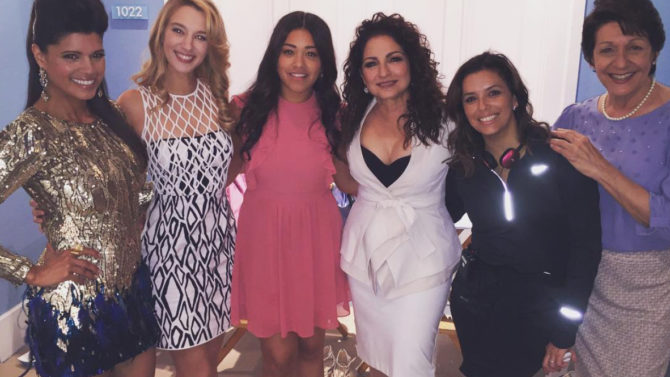 A principios del mes reportamos que Gloria y Emilio Estefan participarían como actores invitados en la exitosa serie Jane The Virgin y finalmente hemos podido ver algunas fotos de la famosa cantante en el set de la comedia protagonizada por Gina Rodríguez.
A través de su cuenta de Instagram la intérprete de éxitos como "Mi Tierra" y "La Conga", compartió varias fotografías en las que se le ve posando con algunas de las actrices de la serie (incluida Gina) y con Eva Longoria, quien está dirigiendo algunos episodios de la tercera temporada del show.
VER TAMBIÉN Gloria Estefan: Su transformación a través de los años [FOTOS]
La artista que recientemente cumplió 59 años aparece en las imágenes luciendo un vestido de dos piezas blanco con su cabello rizado suelto.
"Con las chicas de Jane de Virgin. Muy emocionada de estar filmando aquí hoy!!!", escribió la cubano-americana para acompañar una de las instantáneas.
Estefan se la pasó de lo lindo durante su tiempo en el set de filmación, como lo muestra otra foto que compartió con sus seguidores. "Las chicas se alocan en el set de Jane the Virgin", escribió en su post.
Por supuesto que Gloria no fue la única emocionada por su participación en el seriado de CW. Sus compañeras de reparto también se mostraron felices de compartir escenas con la artista a través de sus redes sociales. Entre quienes aprovecharon para compartir fotos estuvieron las actrices Ivonne Coll, Yael Grobglas, y por supuesto la protagonista del show y Longoria, quienes compartieron la misma foto a través de Instagram.
Los Estefan se interpretarán a sí mismos en el tercer episodio de la tercera temporada del show, en donde deberán decidir si ayudarán a Rogelio (Jaime Camil) mientras intentan adaptar una telenovela latina para el público estadounidense. El episodio llamado "Chapter Forty-seven" será dirigido por Longoria.
VER TAMBIÉN 10 razones por las que nos encantaría ser los BFF de Gina Rodríguez [FOTOS]
Gloria y Emilio se unen a estrellas de la talla de Juanes, Paulina Rubio, David Bisbal y Britney Spears, quienes también han aparecido como invitados especiales en este programa.
La tercera temporada de Jane The Virgin se estrenará el próximo 17 de octubre.