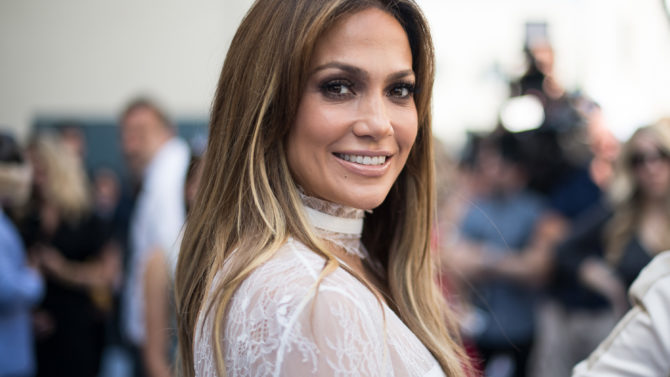 Jennifer López se prepara para hacer su debut en el creciente fenómeno de los musicales transmitidos en vivo por televisión. La artista de 47 años protagonizará una nueva versión de Bye Bye Birdie que será transmitida en diciembre de 2017 por NBC.
Según indicó el director de NBC, Bob Greenblatt, fue la misma López quien propuso a la cadena la idea de hacer el musical. "Ella se acercó a nosotros y nos dijo, 'amo ese show, descubrí la música'", indicó el ejecutivo al anunciar la noticia durante un evento organizado por People y Entertainment Weekly en el Paley Media Council.
VER TAMBIÉN Los videos musicales más icónicos de Jennifer López
El musical de los años 60 cuenta la historia de Albert, el representante de un famoso artista llamado Conrad Birdie, y de su novia y secretaria, Rosie Álvarez, quienes idean un plan para promocionar la nueva canción de Birdie antes de que éste tenga que irse a la guerra. La versión original del musical fue protagonizada por Dick Van Dyke, en el papel de Albert, y Chita Rivera, como Rosie.
En esta nueva versión, además de asumir el rol de Rosie, la cantante servirá como una de las productoras ejecutivas del show. Por el momento se desconoce qué actores conformarán el resto del elenco del musical.
"De los musicales de Broadway y películas que vi en mi niñez, Bye Bye Birdie era uno de mis favoritos", señaló la intérprete de "On the Floor" mediante un comunicado publicado por People. "Estoy orgullosa de ser parte de la familia de NBC con Shades of Blue y pensé que sería muy divertido realizar uno de los mayores musicales".
VER TAMBIÉN Jennifer López y Marc Anthony se divierten en el estudio de grabación [VIDEO]
NBC inició en el 2013 su tradición de transmitir musicales en vivo durante el mes de diciembre con The Sound of Music, protagonizado por Carrie Underwood. Desde ese entonces la cadena ha realizado dos producciones adicionales, Peter Pan Live! en el 2014 y The Wiz Live! en el 2015. Este año el turno es para Hairspray Live!, que contará con actuaciones de Ariana Grande, Jennifer Hudson y Kristin Chenoweth.