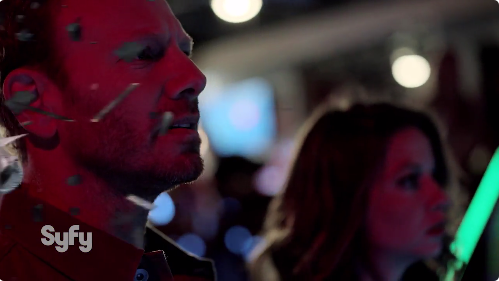 Si pensabas que Sharknado no podía ser más increíble, estabas equivocado. En la cuarta entrega de la película de los tiburones que vuelan, estos se apoderan de la ciudad de Las Vegas.
La página oficial de Sharknado en Twitter compartió este miércoles 1 de junio con sus seguidores, un adelanto de Sharknado 4: The 4th Awakens, que puedes ver a continuación:
VER TAMBIÉN Revelan póster oficial de 'Sharknado: The 4th Awakens' inspirado en 'Star Wars'
En esta cuarta entrega de la cadena de televisión SyFy, Finn Shepard, papel interpretado por Ian Ziering, no da crédito a la nueva escuela de tiburones y tornados que infunden terror en los habitantes de Las Vegas.
La historia se sitúa cinco años después de lo ocurrido en Sharknado 3: Oh Hell No!, y nos lleva a la llamada ciudad del pecado donde un bailarín exótico usa sus movimientos pélvicos para desviar a… ¡un tiburón!
Sharknado 4: The 4th Awakens se estrenará el próximo 31 de julio, y volverá a contar con la actriz Tara Reid en el papel de April y unas cuantas caras familiares que se prestaron para participar en esta producción que se ha convertido en una especie de culto, como Gary Busey, David Hasselhoff, Stacey Dash, Vince Neil y Dr. Drew Pinsky, entre otros actores.
VER TAMBIÉN Nueva serie de Matt Damon y Ben Affleck llega a SyFy
Y tú, ¿estás preparado para volver a atemorizarte con estos tiburones?