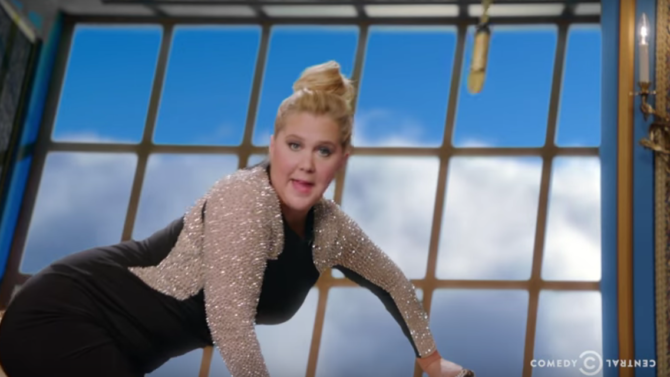 Falta exactamente una semana para que se estrene la cuarta temporada de Inside Amy Schumer. Es por ello que, para aumentar las espectativas entre los televidentes, Comedy Central ha estrenado un nuevo teaser del show cómico.
Chistes sobre la sexualidad y las fiestas llenas de excesos [dos temas que son recurrentes en el repertorio de Schumer] son algunas de las cosas que se pueden ver en el adelanto que te traemos a continuación:
VER TAMBIÉN Amy Schumer critica a la revista 'Glamour' por tildarla de 'plus size'
Esta nueva nueva tanda de capítulos de Inside Amy Schumer comienza el jueves 21 de abril y, basado en otros adelantos, sabemos que al menos uno de los episodios contará con la participación de Lin-Manuel Miranda, creador de Hamilton, el popular musical de Broadway.
Este programa de sketches de comedia se estrenó en 2013 y a lo largo de su estadía en la televisión se ha llevado un Peabody Award y dos Primetime Emmy Awards.
Schumer también se está preparando actualmente para la publicación de su libro titulado The Girl with the Lower Back Tattoo, que sale a la venta el 16 de agosto de 2016. Según los representantes de la editorial responsable de su publicación, el libro presenta una colección de ensayos y "cuenta historias personales de Schumer que van desde lo vulgar hasta lo romántico, y desde lo hermoso hasta lo horroroso".