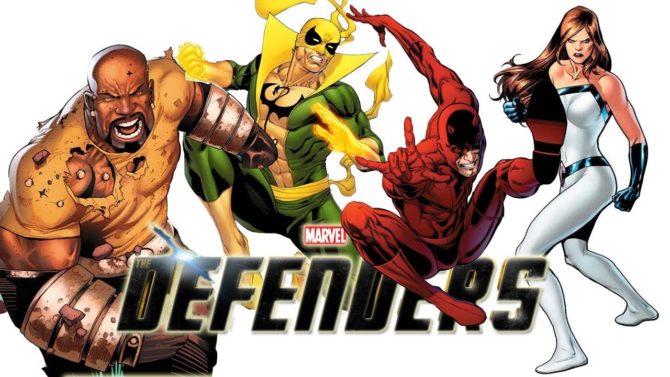 La serie The Defenders será uno de los nuevos proyectos de Netflix y, según se supo este 15 de abril, Douglas Petrie y Marco Ramírez serán los encargados de la producción.
Por si no lo sabías este dúo es el responsable de producir la exitosa serie de Daredevil, que también forma parte de los ofrecimientos del popular servicio de streaming. Drew Goddard, quien estuvo nominado por su trabajo como guionista en The Martian, trabajará junto a ellos en esta oportunidad como productor ejecutivo.
"Doug y Marco lograron cautivar a nuestros miembros alrededor del mundo con su trabajo en Daredevil. Ya queremos ver cómo ellos y Drew presentarán el equipo completo de The Defenders a nuestra audiencia global", así lo hizo saber Cindy Holland, vicepresidenta de contenido original de Netflix, de acuerdo a información recogida por Variety.
En cuanto a las diferencias entre Daredevil y The Defenders, Charlie Cox, actor que le da vida a Matt Murdock en la primera serie, expresó hace unos días que ambas son muy distintas. "Me resulta interesante ver cómo van a convertirse en una sola. Sabemos que a finales de este año vamos a estar haciendo The Defenders y, por supuesto, Daredevil es una parte muy importante de ese cuarteto. No tengo idea de lo que tratará la historia, pero estoy muy emocionado de ver cómo se combinan", sentenció.
The Defenders es un grupo similar a The Avengers que está compuesto por Daredevil, Iron Fist, Luke Cage y Jessica Jones.