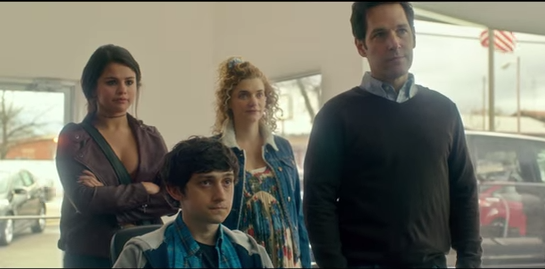 En medio de su Revival Tour, Selena Gómez estrenará la película The Fundamentals of Caring, en la que comparte créditos con los actores Paul Rudd y Craig Roberts.
La película que Netflix adquirió este año durante el Festival de Cine de Sundance este año, cuenta la historia de un escritor retirado llamado Ben (Rudd) quien se convierte en el cuidador de un malhablado joven de 18 años con distrofia muscular llamado Trevor (Roberts), para quien su máxima aspiración es tener un encuentro íntimo con la estrella de la música pop, Katy Perry.
VER TAMBIÉN Selena Gómez en su primera portada doble para 'Vogue Brasil' [FOTOS]
Uno paralizado emocionalmente y otro físicamente, Ben y Trevor deciden hacer un viaje por carretera a todos los lugares que el muchacho ha visto en la televisión. Durante el roadtrip, la pareja recoge al personaje que interpreta Gómez, una joven que huyó de su casa y quien pondrá a prueba sus instintos de supervivencia mientras aprenden sobre la amistad y las cosas que verdaderamente importan en la vida.
The Fundamentals of Caring está basada en la novela de Jonathan Evison, y también incluye en su elenco a Jennifer Ehle, Megan Ferguson y Frederick Weller.
VER TAMBIÉN Cartelera de Netflix para junio 2016
La cinta, escrita, dirigida y producida por Rob Burnett, estrenará en la plataforma de streaming el próximo 24 de junio.