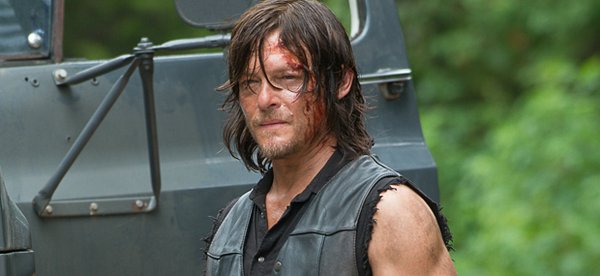 AMC compartió los primeros cuatro minutos de la segunda parte de la sexta temporada de The Walking Dead.
Al comienzo del video, vemos a Daryl (Norman Reedus), Sasha (Sonequa Martin-Green) y Abraham (Michael Cudlitz) manejando con normalidad en camino a Alexandria hasta que se encuentran con Negan y su grupo, quienes los enfrentan y reclaman sus pertenencias. Sasha intenta interrogarlos preguntándoles quiénes son, mientras que Negan, el líder del otro bando, le reclama que solo él puede hacer las preguntas y le exige que se quede callada.
El primer episodio de la segunda mitad, titulado "No Way Out", contará con la dirección de Greg Nicotero y un guión de Seth Hoffman. Al final de la primera mitad de la sexta temporada se pudo apreciar cómo la comunidad de Alexandria fue invadida por zombis, quienes atacaron a Deanna (Tovah Feldshuh) y pusieron en peligro a todos los habitantes.
Por otro lado, los personajes de Glenn (Steven Yeun) y Enid (Katelyn Nacon) se unirán  en este regreso para salvarle la vida a Maggie (Lauren Cohen).
The Walking Dead regresa este domingo 14 de febrero a las 9PM por AMC.
No te pierdas el adelanto: