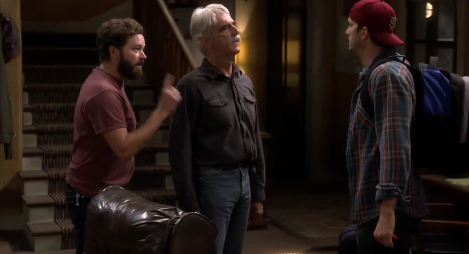 Uno de los mejores juntes de la televisión fue el de Ashton Kutcher y Danny Masterson en That 70's Show. Ahora este binomio regresa en The Ranch, serie que será transmitida a través de Netflix.
La nueva comedia sucede en un rancho de Colorado y cuenta la historia de un hombre llamado Colt, un futbolista profesional retirado que vuelve al hogar donde creció después de 15 años de ausencia para asumir las responsabilidades del negocio familiar junto a su hermano Rooster (Masterson) y a su padre Beau (Sam Elliot).
La serie cuenta con una primera temporada de 20 episodios, la cual estará dividida en dos tandas de 10 capítulos. Ambas partes serán publicadas al mismo tiempo.
VER TAMBIÉN Finalmente Ashton Kutcher habla sobre su boda secreta con Mila Kunis [VIDEO]
La serie será lanzada en su totalidad por el servicio de streaming el 1ero de abril, y cuenta también con la participación de Elisha Cuthbert y Kathy Baker.
 https://www.youtube.com/watch?v=ihDKbkFdIK8
Kutcher, de 38 años, regresa a la televisión luego de sustituir a Charlie Sheen en la serie de CBS, Two and a Half Man. En el cine el esposo de Mila Kunis también ha tenido papeles recientes, no hace mucho le dio vida a Steve Jobs, el cofundador de Apple, en el filme biográfico Jobs.