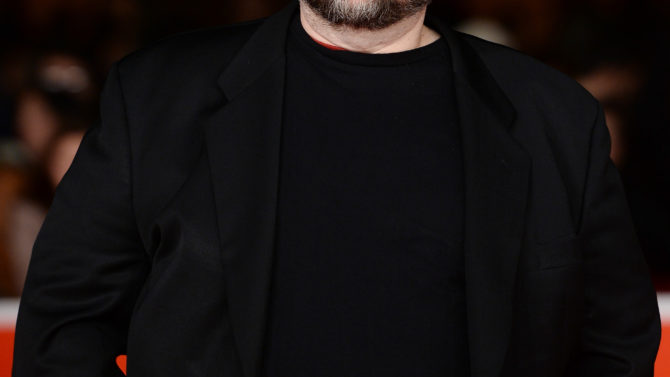 "Crimson Peak" doesn't hit theaters until October 16, 2015, but hardcore Guillermo del Toro fans are already salivating more than a year before its release.
The Legendary Pictures horror film, starring Jessica Chastain, Mia Wasikowska, Charlie Hunnam, and Tom Hiddleston (who replaced Benedict Cumberbatch), tells the story of an aspiring author (Wasikowska) who is torn between her love for a childhood friend and the temptation of a mysterious outsider. Trying to escape the ghosts of her past, she is swept away to a house that breathes and remembers.
We spoke to GDT recently (read the whole interview in Spanish here) and asked him a few very pointed questions about vampires (specifically, those on his new FX show, "The Strain"), Frankenstein's monster, ghosts, and what he considers to be his best work ever.
His answer: "Crimson Peak," a movie that he's described as "kinky and violent" in past interviews, and that, instead of relying solely on CGI, is taking a classic approach to horror, where the actors themselves are used as ghosts and where the house itself, set in rural England, is a major character, with cool props such as one gigantic chandelier — how "Phantom" of him!
Del Toro spoke about "needing a breather" before diving into a movie as "technologically complex" as "Pacific Rim 2." That breather will come in the form of "a little black and white movie," about which he's remained tight-lipped.
But the director says "Crimson Peak" was incredibly refreshing for him to work on, too.
"Crimson Peak" in itself is a breather," GDT told us. "It's a movie that has visual effects that are very different. It's not pop; it's work that has been done very carefully and artfully, like a painting, and I think people will find a lot of things that they don't normally find in my American movies but that are present in my Spanish films."
When we asked Del Toro what is the work he's proudest of, this is what he had to say:
"I think out of all the American movies I've made, "Pacific Rim" is the one that has brought me the most fulfillment on a creative level; visually, it's a movie I'm profoundly proud of. I'm also really proud of the Hellboys, but in my Spanish language career, I would say "Pan's Labyrinth" and "The Devil's Backbone." But I hope people will watch "Crimson Peak" because I think it combines things from both careers for the first time."
Whether "Crimson Peak" – or any movie, for that matter – is a huge commercial success makes little difference to GDT, and he's spoken at length about this in relation to "Pacific Rim," which, depending on whom you ask, was either a giant success or an underperformer.
"Forget for a moment that the movie cost $190 million. It made $400 million. You just can't define the success of a movie in relation to a cost," Del Toro said. "The movie found a really enthusiastic and large audience that continued to engage with the film [after seeing it in theaters] through digital and home video."
Del Toro added that the approach to the sequel will be to "speak to that same fanbase …People have a connection and a love for those monsters and giant robots and it's a world that no one else is doing."
His philosophy is simple: "Success is f**king up on your own terms."
When asked to elaborate, this is what he told us:
"I think to define success as something that comes from the outside can be very hard on you. Success for a movie or TV show should come from the fact that it's either accepted or rejected but on its own terms. There are people who can say, 'Vampires are so stupid,' or 'giant robots are so dumb,' and of course vampires and giant robots don't exist, but if someone rejects those projects for those reasons, to me, that's success. It's also success when something is rejected because it has an element that is hard to digest but is done purposefully, intentionally by the hand of the artist. There are people who think that fulfillment comes only from box office success or great reviews and I think that great satisfaction comes from having made the work that you believed needed to be made, even if you're wrong. What's tricky is when you have success and you don't understand why."
That said, we can't wait to see "Crimson Peak"!