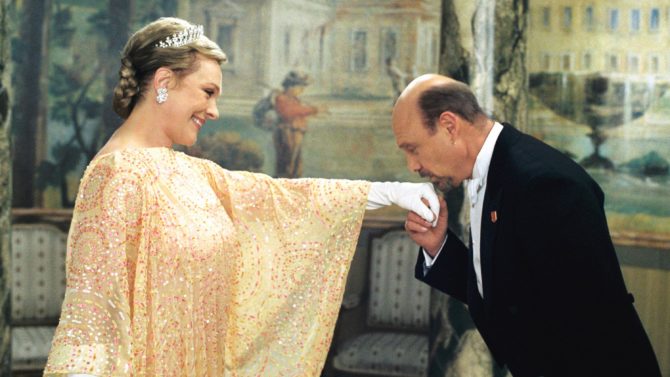 Hector Elizondo has been a working actor since the early 1960's but his life changed forever in 1979 when he met the man who would become his best friend, Garry Marshall. The duo collaborated in 18 movies together, making Elizondo the only actor to be in every single film made by Marshall.
In March, the famed director announced plans to make a third Princess Diaries film and that both leads Anne Hathaway and Julie Andrews were on board. But when Marshall unexpectedly died of pneumonia on July 19, everything seemingly went on hold. Elizondo, who is currently promoting his guest starring role on Elena of Avalor airing on Friday on Disney Junior, gave on update on the film to Variety Latino.
"It's not official, but certainly, everybody wants it done," Elizondo told Variety Latino. "It's been discussed. Gary talked to me— may he rest in peace— about his involvement in it. I know Annie would like to do it. I know Julie would like to do it. I would like to do it. So we're on board, it's a question of when and a question of getting a good story. I'm ready! It's time to go back to Genovia!"
Elizondo remembers working with his friend fondly and the wonderful qualities he had that made everyone want to work with him.
"I love making movies but it takes so long to make them unless it was with Garry Marshall. It was so much fun making them with him because he made it fun. Working with him was like being on recess in the playground. You work long hours, you work hard and you didn't mind because everyone was acknowledged. Everyone was appreciated: the carpenters, the electricians, everybody. At the end of the day, he would go around and say, 'thanks for a good job. Thank you so much!'
Those are magic words, please and thank you. Many people have forgotten that. That's why people would be in line to work with Garry. They knew they were acknowledged."
As difficult as it'll be to make a third Princess Diaries film without Marshall, Elizondo is a big fan of the story based on The Ugly Duckling. Although welcoming a new director will be tough, the veteran actor has ideas as to who should take over the franchise.
"I'd love it to be a woman [direct]. We don't have enough of them. That would be nice. First, you have to have a good story. Whoever directs it has to understand the story. God knows there are female directors out there. That would be lovely. I'm sure they'll come up with a more than competent director."
He added, "I'm ready to do it anytime, but first I've gotta finish my TV series."