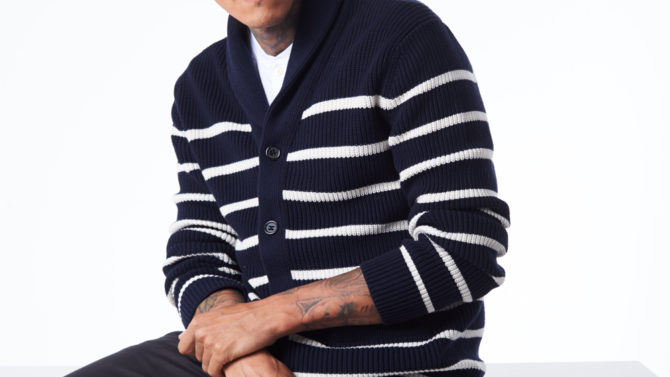 It's not every day you hear of a kid involved in gang activity since an early age, in and out of jail from 13 to 25 becoming an actor. However, those experiences are exactly what made Richard Cabral a one-of-a-kind actor and one of the Top Ten Latinos to Watch from Variety Latino for 2016. Based on those life events he was able to lend credibility to his bad-guy roles in Southland and American Crime.
From a second-generation Mexican family, Cabral didn't plan to become an actor. It wasn't until his late twenties, when he was working in a bakery in downtown Los Angeles, that someone came by and invited him to an open audition.
"I went to the studio and I got the part … I didn't plan it, but that was definitely what made me think 'oh, s–t, I can actually do this. I went to the studio and I got the part… I didn't plan it, but that was definitely what made me think 'oh, s–t, I can actually do this," he told Variety Latino.
Maybe because of his style, his background or his peculiar body language, Richard got used to playing the "bad guy." This is something he's clearly very good at since he received an Emmy nomination for his role as Hector Tonz in the series American Crime. Now he's on the good side of the law in the role of Detective Alex Cruz in Fox's drama series Lethal Weapon.
"It's my first time playing a cop. For my whole career I have been playing the bad guy. Sometimes I'm sitting over there with my gun, with my L.A.P.D. badge and I'm like 'F–k, this is something else.'"
Adding: "I think the way things are going, I'm gonna miss being the bad guy. But, you know, there's no actual good guy or bad guy. It's all relative. I mean, look at the s–t that's happening on the news with all the cops, who is the good guy and who's the bad guy?"
Cabral —who stars alongside Mel Gibson in the film Blood Father set to be released this summer— has a very interesting opinion about Latinos in Hollywood since he's not a fan of the idea that everything is based on ethnicity.
"I feel Latinos have always had opportunities. It's just that, sometimes, we are our own worst enemy. I mean, look at Alejandro González Iñárritu. When he started his career as a director, the stereotypes and the discrimination were already there, but he, as an individual, did not let that hold him down. He kept on doing a great work and look at him," Cabral said.
"I don't like to focus on the whole diversity and culture thing. For me, I look at it as the individual. As long as I am doing a great work… As long as Latinos are doing great work, they're going to succeed. But if you worry about the world and the culture, then that's going to hold you down."
Echoing the words of director and writer John Ridley, Richard says: "We need to have more writers of color. If you don't have any writers or showrunners of color, you can't expect to have actors of color. The actors come from the writing and that's why I think there's a lot of disconnection. The same thing happens with Latinos… But now you see a Latino brother here and there. It's becoming better".