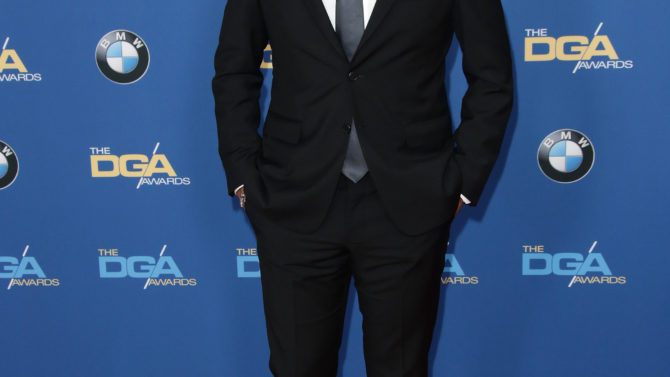 The Revenant director Alejandro González Iñárritu took home the evening's top directing honor in an emotional victory at the 68th Annual Directors Guild Awards on Saturday.
The visibly shaken filmmaker took the stage to thank his production team and Leonardo DiCaprio. "I truly thank everybody. I came here as a nominee because I was already thrilled, and I never expected to win this award, truly. I really prepared nothing. Leo, I love you!"
The filmmaker paid tribute to his late father, who died two years ago. "I think he's getting some business up there to make this happen," he said. "I miss him a lot."
He also acknowledged the predominantly Latino wait staff at the Hyatt Regency Century Plaza Hotel, where the event took place. He noted their words of kindness and praises as he passed through the kitchen on his way to the press photo room with DiCaprio.
"As I was walking back there, there were more than 120 Mexicans in the kitchen that serve you hot food – and that was the best party I ever had. Viva México!" he told the audience.  
"That's not the people that Donald Trump has described at all," he added, garnering huge applause and cheers. "And this hug and this embrace that you are given me today goes to a whole Latin community in this country, all these people that live here that they contribute a lot to this country."
Backstage, Iñárritu talked about the recent diversity debate taking place in Hollywood. "The power of this country comes from diversity," he said. "This country was impregnated by so many different races and the power of it relies on that. To try to build a wall and stop that is exactly to betray the power of this country, what has been absolutely outstanding, admirable, and unique in the United States."
"The big enemies are not human beings," he continued, but certain ideologies that can "impregnate hate and stop the flow of this incredible society … It's a cultural problem, not the problem of the Academy. It's a cultural perception that has to change."