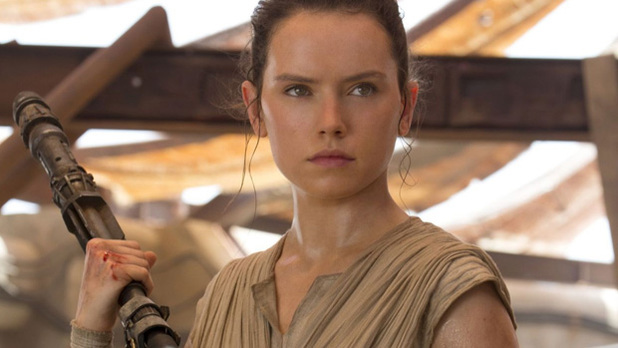 Felicity Jones stars as the rebellious and tough as snails Jyn Erso in Rogue One: A Star Wars Story. In the film's new teaser trailer, which premiered last week, Jyn is captured and charged with a variety of crimes, including forgery of Imperial documents and aggravated assault. The trailer has left many fans wondering if Jyn is related to another recently introduced Star Wars female hero, Rey.
Daisy Ridley who plays Rey in Star Wars: The Force Awakens caught wind of the rumors when MTV asked her to weigh-in on the theory. Ridley didn't rule anything out, but she did say "just because she's white and got brown hair… it doesn't mean she's my mom."
Ridley also noted that she's fully aware of her character's history ever since she started working with J.J. Abrams on The Force Awakens.
"I think the amazing thing about [The Force Awakens] is that Finn and Rey don't come from anywhere, and they find a place," Ridley explained. "And so to me, it's funny that people think [Rey's parentage] is so important. Because I guess it is, but I don't really think it is. Because regardless of where you come from, where you go is the thing. You're moving forward, and you can make family, and you can find people you love. And so I think the progression Rey is making and the people she's meeting and the relationships she's making now are kind of more important than where she comes from. But that's just me."
Rogue One: A Star Wars Story hits theaters December 16, 2016.