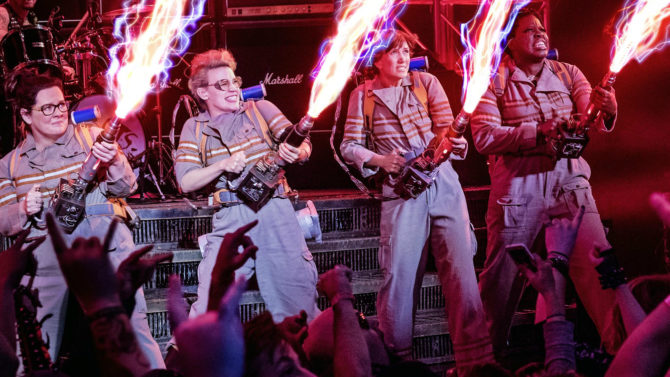 Sony Pictures Entertainment released a new trailer for Paul Feig's Ghostbusters, starring Melissa McCarthy, Kristen Wiig, Kate McKinnon and Leslie Jones. 
The new trailer features new footage and two Ghostbusters legends. Slimer, the green ghost captured by the original ghostbusting crew in 1984, and uber destructive Stay Puft Marshmallow Man.
The reboot follows scientists Erin Gilbert (Wiig) and Abby Yates (McCarthy). Gilbert is a particle physicist while Yates, Gilbert's close friend, is an expert in the paranormal. As ghost sightings ramp up, they team with Jillian Holtzmann (McKinnon), a nuclear engineer who winds up creating the team's technology and Patty Tolan (Jones), an NYC subway worker connected to an early supernatural encounter.
The first official trailer made headlines after being named the most disliked movie trailer in YouTube history. And, McCarthy recently came out to say she too was confused by the trailer.
McCarthy appeared on the Johnjay & Rich radio show where she was asked why does the first Ghostbusters trailer open with a reference to the original film 30 years ago. The film when it was first announced was confirmed as a reboot not a sequel.
"It's a reboot, not a remake. I know it's weird that they say [in the trailer] '30 years ago,' but in this movie it's like the first one didn't happen," assured McCarthy. "It's a great story but told totally differently. It's the same thing of four unlikely heroes, it's in New York City, ghosts are taking over. It's the same classic story, but it's not a '30 years later.' … Believe me, the question was asked. I think it's very confusing." 
Ghostbusters will debut on July 15.