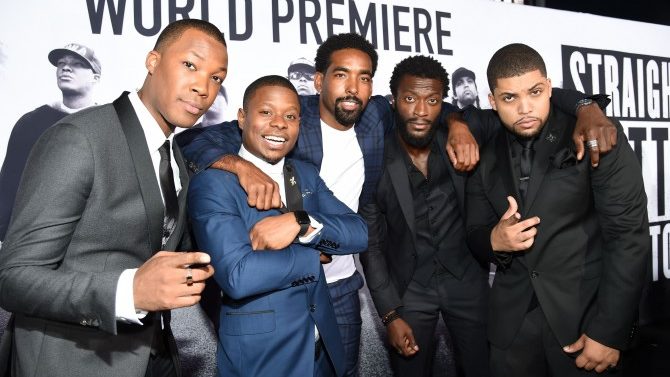 Earlier this week, reports started circulating that the cast of Straight Outta Compton was not invited to this year's Academy Awards, only adding fuel to the #OscarsSoWhite controversy.
A rep for The Academy broke its silence clarifying the misunderstanding and explaining that there are only so many spots for one to attend.
"The Academy invites the nominees only, and each studio gets a limited ticket allotment, based on the number of nominated films, to use at their discretion. It has been this way for decades," a spokesperson told People Magazine.
The number of tickets each studio receives is based on how many nominees they have that year. Universal Pictures, who distributed the film, received four nominations.
Many critics predicted that the N.W.A. biopic would be recognized in the best picture category. However, only the two white screenplay writers, Jonathan Herman and Andrea Berloff, were nominated in the best original screenplay category. This is the second year in a row in which no actors of color were nominated for an Academy Award, which has prompted a handful of celebrities such as Jada Pinkett Smith and Will Smith to boycott the ceremony, which will take place on Feb. 28.
Earlier this month Straight Outta Compton producer Ice Cube joined in on the Oscar lack of diversity conversation. When asked on The Graham Norton Show if he was going to attend the Oscars, the rapper and actor responded, "I never used to go anyway. You can't boycott something you never went to.
"If the industry gives you a trophy or not, or pats you on the back or not, it's nice, but it's not something you should dwell on," he added. "We got accolades from all levels. We got so much praise for the movie."