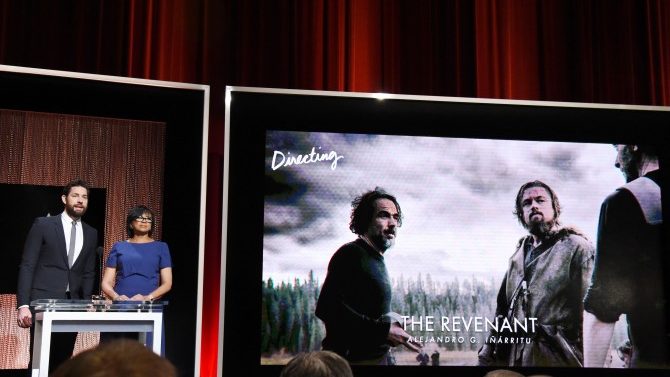 The nominees for the 88th Annual Academy Awards were announced on Jan. 14 by Guillermo del Toro, John Krasinski, Ang Lee and Academy President Cheryl Boone, which is a culturally diverse group of individuals. Latinos are present in a number of categories, with Alejandro González Iñárritu becoming the unofficial Latino representative for the award ceremony since last years' big Birdman win. His achievements are without a doubt something to be proud of, but it is also something that raises many questions.
We know very well, as does the Academy, that there are many Latinos working hard behind the scenes to create unimaginable quality work, efforts that we should all applaud. Proof of that hard dedication to their craft is Iñárritu, as well as cinematographer Emmanuel Lubezki, Gabriel Osorio and Pato Escala, whose film Bear Story is nominated in the best animated short film category, and the magnanimous production led by the Colombian director, Ciro Guerra, titled El abrazo de la serpiente. To all these greats we owe them a drink! But, what about the Latino actors?
We're not trying to ignite a fire on the Internet saying that there "has to be an important Latino in each film or else we riot," like such would happen if The Walking Dead character, Daryl Dixon, died. That is not the point. We know that the Academy has to meticulously judge each performance without taking into account an individual's ethnicity, or at least that is the way it should be. The problem is that there are many actors taking on important roles in the Mecca of American cinema. Now, who's the blame for their absence?
This is precisely what Oscar Isaac tried to explain after receiving the Golden Globe for best performance by an actor in a limited series for his role in Show Me a Hero: "It's happening. There aren't a lot of us. It's difficult for people who look not like the status quo in this country to get great roles. And it's happening a little bit more." The problem is that "a little bit more" is happening too slowly. That "a little bit more" could take years and for many it's worrisome.
More proof that Latinos are still in the running is household name Benicio del Toro. Denying that this Puerto Rican is a great actor is like doubting that the Earth is round, we're sorry Tila Tequila. His performance in Sicario was applauded worldwide, but his name is absent among the nominees. This could be because there were better performances than his, an argument that is completely valid. The same could be said of Demián Bichir's role as The Mexican in The Hateful Eight, a film that was almost completely left out in this award ceremony, taking into account that it is one of the best film efforts created in 2015.
The illogical situation here is that there aren't many Latinos with crucial roles in big Hollywood features. Yes, we have some blockbusters such as Ant Man, which has a comedic performance by Michael Peña but, would Room be different if the protagonist was Latina? Would it be nominated? Would if affect you to see a Latina taking on an Irish role if the actress has all the necessary physical traits? If DiCaprio hadn't been in The Revenant, would the story have changed? Would be nominated for 12 statuettes? Would it be that these films are nominated because of their star power and because if it is a DiCaprio's film "it's always good?"
There are too many questions that exist on this issue, but the important thing is to start a discussion. Perhaps such debates will be the necessary step to make a change. Maybe a change of thinking should come from the producers in Hollywood so that we can fill the spot of nominated actors in the future with surnames that come from South America. For that to happen, one would have to start to do what is being done on television.
Gael García Bernal in Mozart in the Jungle, Isaac in Show me a Hero and even Gina Rodriguez from Jane the Virgin, have important roles on the small screen that don't necessarily focus on their skin color. We need to erase the idea that states that a Latino actor must be Latino in whatever they do in front of the camera. That thought is what makes many productions not think about great Latin American actors for important roles, because sadly on many occasions we are being stereotyped.
González Iñárritu did an excellent job on The Revenant. And, as he was entrusted with the responsibility of helming a project that does not focus on ethnicity, Hollywood should trust Latino actors to take on roles that have nothing to do with their culture background. This has happened on several occasions in the past, but not on a massive scale.
America Ferrera recently stated during the NBC panel at the TCAs, that diversity was one of the first thing that she noticed upon being cast in her new show Superstore, "I was so taken by how this script hadn't been written with the characters' ethnicity pre-determined," Ferrera said. "They cast the best people for the roles." This is good. This is a start. It's that "a little bit more" that we should take to the big screen. We should keep fighting so that we can be up with the greats. We are already achieving this behind the scenes and now it's time to do it in front of the camera.
Translated by Liz Calvario