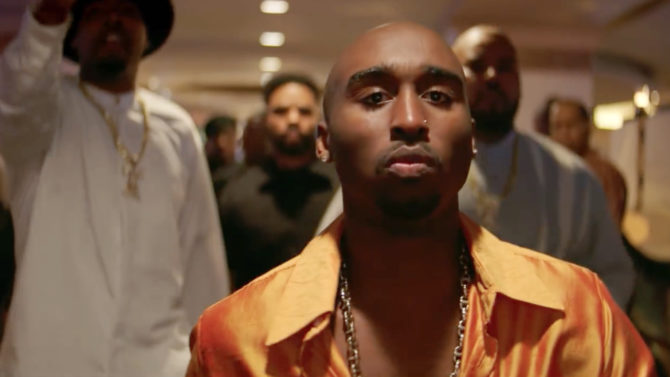 Today marks the 20th anniversary of the death of legendary rapper Tupac Shakur, who was fatally shot in Las Vegas after the Bruce Seldon vs. Mike Tyson fight at the MGM Grand. So it's appropriate that filmmakers decided to release the second trailer for the upcoming biopic titled All Eyez on Me on Tuesday.
In the film, Tupac is played by newcomer Demetrius Shipp, Jr. who bears an uncanny resemblance to the rapper who died at age twenty-five. The new trailer show how Shakur tried to do right by his mother Afeni Shakur (played by Danai Guira) while battling all the temptations that come with stardom.
The trailer starts with Shipp saying, "Police kill innocent black folk every day and Quayle's coming after me? But I'm used to people coming at me. This shit been happening my whole life."
All Eyez on Me is directed by Benny Boom and co-stars Annie Ilonzeh as Tupac's then girlfriend Kidada Jones, Kat Graham as the rapper's longtime friend Jada Pinkett, Dominic Santana as Suge Knight, Jamal Woolard as Biggie Smalls, and Grace Gibson as Faith Evans.
No release date for the biopic has been given as of yet.