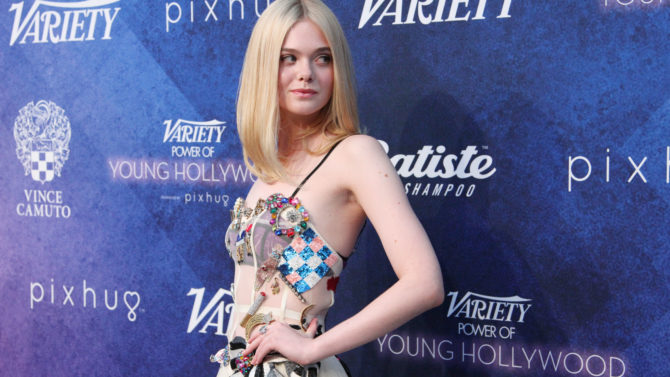 Elle Fanning may only be eighteen years old, but she's been a working actress nearly her entire young life. The Neon Demon star was honored at Variety's Young Hollywood party on Tuesday night alongside Jaden Smith, Ansel Elgort, Bethany Mota, and Cameron Dallas.
"It's crazy! When Variety asked me to be in the magazine, I kept thinking how long that magazine has been in my house and you see it everywhere," Fanning told Variety Latino. "So when they asked me to be on the cover—especially for this special issue—I thought it was really neat. I think our generation is really great. We find power in the individual and we embrace our uniqueness."
She added, "And since I just turned eighteen and graduated it's a special time. It's like you're an adult but you're not."
Fanning has found that the key to her success is in finding the right balance between work and her personal life."I went to regular school and I live with my mom and dad," she said. "If you fall into the whole Hollywood thing all the time it can get a little sad." But even when work is concerned she finds ways to express her creativity through fashion. "My dress tonight is by Marc Jacobs and it's so much fun, she exclaimed. "I can twirl around in it and have fun."
As a young woman growing up under the bright lights of Hollywood, Fanning has found a bit of pressure knowing that there are young women out there watching her every move. This is a role very close to her heart and she takes that responsibility very seriously.
"I think that young women do need role models so I think that the pressure of that [on me] is a good pressure," she explained. "I have a 12-year-old cousin and I know she needs good young women to look up to. The charity I donated to tonight is called 'Real Girl' and it serves to empower young girls. They have camps all over the world—not just in the U.S.—that help them build good self-esteem which I think is very important.