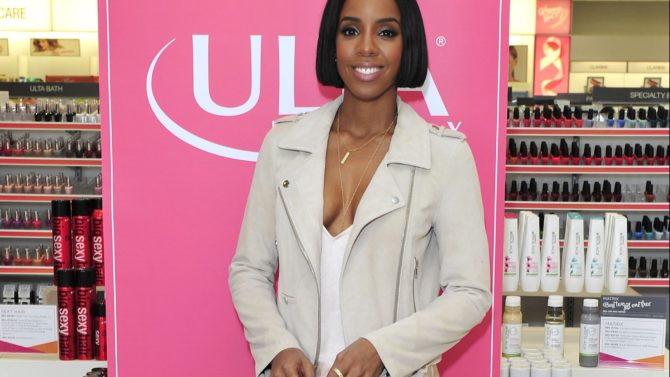 Kelly Rowland and her Destiny's Child bandmate Michelle Williams broke the internet this week when they were spotted together at the Elle Women in Hollywood event on Monday. On Friday, even more rumors began to fly when an Instagram account for Destiny's Child was opened. So, are they or aren't they? Variety Latino caught up with Rowland on Wednesday when she spent the day with eight breast cancer survivors at an Ulta Beauty in Los Angeles.
"I was like, 'guys, it takes three for it to be a reunion,'" Rowland told Variety Latino. "Anytime they see any of us together or all three of us together they automatically think something is happening. I'm like, 'we just wanted to go to an Elle event together.' It's just that simple. It's really cute how there's still so much love, we really appreciate it."
Adding, "Reuniting is something we just haven't talked about. We talk about everything else under the sun but that."
For now, it seems like all three are enjoying their time together as friends but who knows what the future holds for the dynamic trio. One thing is for sure as far as Rowland is concerned, there are a lot of important topics affecting our communities that need to be addressed. One of them being the importance of breast cancer research.
"Today was very special just seeing how they enjoy just being a girl," Rowland told Variety Latino. "Some of these women are still going through treatments but they have the most amazing spirits and inspirational stories. I don't know them but what I've learned from them today, I'm so proud of them. They really inspired me today. I actually lost someone close to me to breast cancer so I want to do what I can."
Adding, "I don't know what it feels like for these women as wives and mothers. I know what my love for my family and my son feels like and I can't imagine something threatening that. That really tugs at my heart."
Another issue that was very important for her to shed light on was that of mental health. She recently starred in the Fox hit drama Empire as Lucious Lion's mother Leah who suffered from mental illness.
"I think we don't talk enough about mental health and the lack of help for those who have mental health issues," she said. "It's often ignored and it's ridiculous. I think that's a part of the reason we have so much crime and we have so many shootings. People don't know what to do with all these thoughts and feelings. They just need to talk to somebody. I think America could do a better job of helping each other.
These issues are affecting our communities and we have to be aware of ourselves and our surroundings. Try to help each other as much as we can and become as knowledgeable about how we can help."
Up next for Rowland is a romantic comedy entitled, The 10th Date headed to Lifetime Network set to air in 2017. Although she's been keeping extremely busy with acting, she's not stopped working on her music.
"I'm doing a record right now," she said excitedly. "That's going awesome. I'll be glad when I can get it out because the challenging part has been finding my steps and my footing to wat I wanted to say. For a minute I was like, 'I'll say this or I'll just think of this. Now I'm like, 'oh wow. I'm here and I'm present. I want to be the most authentic me I can possibly be."
When asked when we could expect to hear her new album, she was reluctant to commit to a date.
"I hate saying dates! I can say 2017. I just don't like doing that because when you do, it'll come back to haunt you. At least Frank Ocean had people waiting for something very special."
Adding about what you can expect as far as her sound, "It's evolved the way I have. I don't think music and an artist should stay the same. You learn and you grow. You can't stay stagnant."