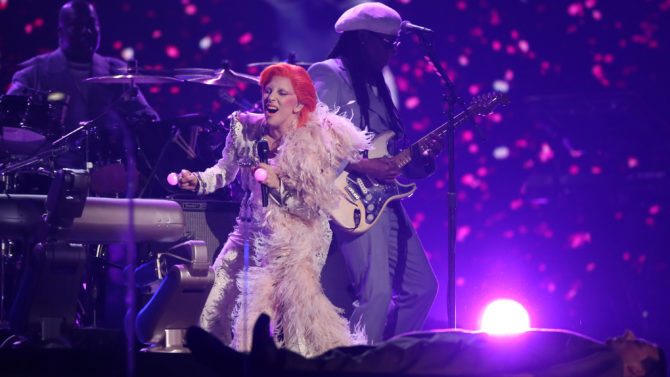 David Bowie's son Duncan Jones took to Twitter Monday night to share his thoughts on Lady Gaga's colorful tribute in memory of his late father at the 58th Grammy Awards.
Gaga, who recently got a Bowie tattoo on her ribcage, took the Grammys stage in a Ziggy Stardust-inspired ensemble to perform a medley of the pioneer's hits, including "Space Oddity", "Changes", "Ziggy Stardust", "Suffragette City", "Rebel Rebel", "Fashion", "Fame", "Under Pressure", "Let's Dance" and "Heroes".
After the performance, Jones tweeted the Oxford English dictionary definition of the word Gaga. "'Overexcited or irrational, typically as a result of infatuation or excessive enthusiasm; mentally confused.' Damn it! What IS that word?" he wrote.
Gaga has spoken before of her genuine admiration for Bowie, whose music influenced her sound and her look.
"I fell in love with David Bowie, when I was living on the Lower East Side, I always felt that his glamor was something he was using to express a message to people that was very healing for their souls," she told The Hollywood Reporter. "He is a true, true artist and I don't know if I ever went, 'Oh, I'm going to be that way like this,' or if I arrived upon it slowly, realizing it was my calling and that's what drew me to him."
Bowie passed away on Jan. 10 following a long-term battle with cancer. The announcement came just two days after his 69th birthday and the release of his farewell album, Blackstar.