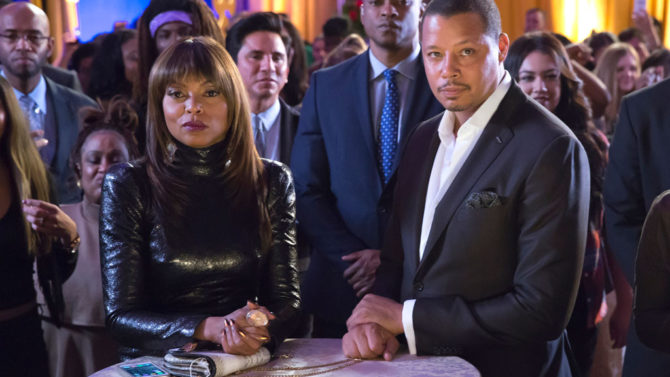 Empire returns to Fox at the end of March and today the network released a brand new trailer. The series stars Taraji P. Henson, Terrence Howard, Bryshere Y. Gray and Jussie Smollett with a special appearance by  Naomi Campbell.
"The heart of Empire is its family," Lucious (Howard) says in a voiceover. "When the family is in crisis, they come together." The trailer below shows a family divided and the start of Hakeem's (Gray) much anticipated reign.
The new season will also follow tensions between Cookie (Henson) and Camilla (Campbell), nicknamed "Yoko" by Cookie, who believes she's trying to tear the Lyon empire apart.
The trailer doesn't reveal many plot details, which is probably why it doesn't address what's happened with Rhonda (Portia Doubleday), who in the season finale is seen tumbling down a high-steep staircase while pregnant.
The show is also known for booking A-list guest stars. So far Marisa Tomei, Rosie O'Donnell, Vivica A. Fox, Alicia Keys, Andre Royo, Chris Rock, and Adam Rodriguez have all made appearances.
In the second half of the season, rapper Xzibit will play Leslie "Shyne" Johnson, a man ready to take down Lucious at all cost.
Empire returns Wednesday, March 30 on Fox.