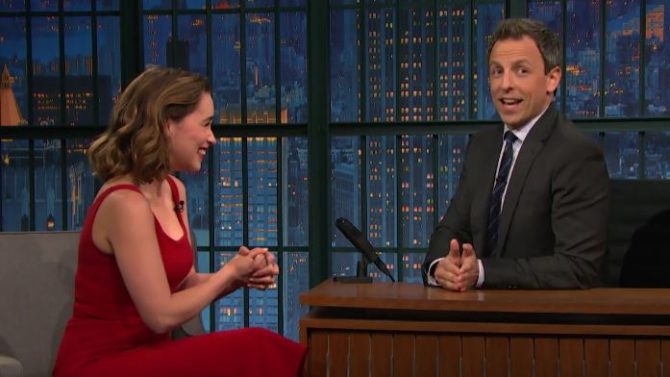 Emilia Clarke stopped by Late Night With Seth Meyers on Tuesday where she channeled her Game of Thrones character to sing a version of Hanson's MMMBop in Dothraki.
Clarke revealed that the Dothraki language is a real language, which was created by linguist David Peterson for the HBO show. She went on to explain that she first receives a new script in English and later receives an mp3 of the Dothraki version.
Clarke then shared an off-camera moment where she decided to sing Hanson's hit Mmmbop in Dothraki while rehearsing her lines one day on set. She of coursed fancied Meyers request to sing a snip bit of the song.
For those interested in learning Dothraki, a conversational language course is available in book and CD form. Living Language Dothraki: A Conversational Language Course was written by Peterson and released last October.