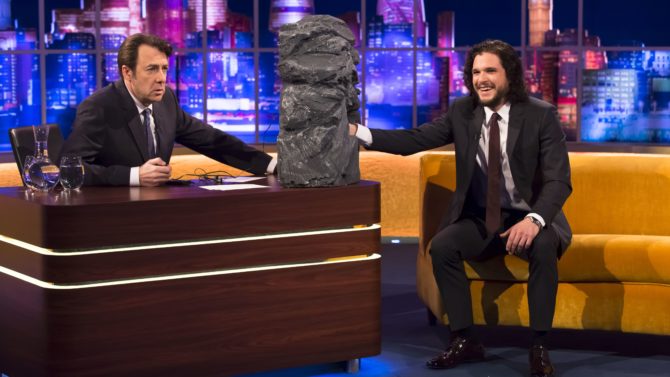 Game of Thrones star Kit Harington stopped by the Jonathan Ross Show over the weekend to answer a round of questions about the next season of the show all while being hooked up to a "lie detector." To make matters even more interesting, Harington was only able to answer only, "Yes," "No," and, "I know nothing."
When asked if there was any nudity in the next season, Harington answered "I know nothing." What the actor didn't know was that the "lie detector" was an actual electric-shock mechanism, which the host would use at his discretion to punish Harington for every answer he deemed unsuitable.
"Are you dead?" Ross asked in a firm voice, referring to Harington's character Jon Snow on Game of Thrones.  Unfortunately, Harington gave him an unsatisfactory answer. Check it out the clip above.
Newcomers joining the Game of Thrones cast include Freddie Stroma as Dickon Tarly, the brother of John Bradley's Samwell; Richard E. Grant in a mystery role; Pilou Asbæk as Euron Greyjoy; and Ian McShane in an undisclosed role.
Game of Thrones Season 6 premieres Sunday, April 24th at 9pm ET on HBO.