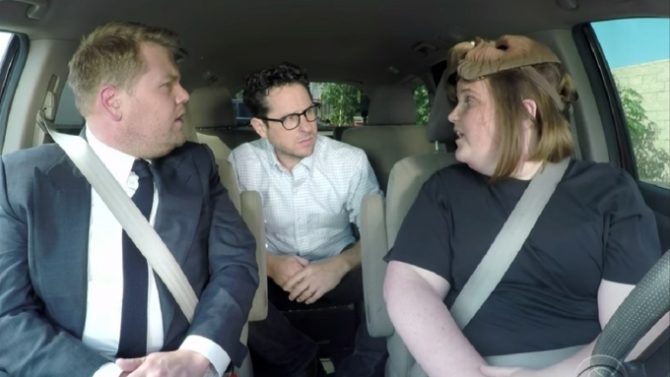 Candace Payne, aka The Chewbacca Mom, stopped by the Late Late Show Monday night and got the surprise of a lifetime when host James Corden introduced her to J.J. Abrams.
"I can't talk, hold on, hold on, I need to process," she said to Abrams upon meeting him. Payne broke out in laughter right before Abrams gave her a big hug.
The video of the Texas mom laughing hysterically over her new Chewbacca mask has already hit well over 140 million views on Facebook in just 72 hours, becoming an overnight sensation.
Corden later did a Carpool Karaoke-inspired sketch with Payne and Abrams in the car, but instead of doing a sing-along, they tried on their Chewbacca masks and gave their best cries.
"I'm a stay at home mom. I only had a few minutes before I had to go get my kids from school. I wanted to prove to all my friends and family that that mask was mine," she said, explaining her reason for posting the video.
Actor Peter Mayhew, who plays Chewbacca in the Star Wars films, also surprise Payne by sending her a note to The Late Late Show inviting her and her family to the Dallas Fan Expo and giving her VIP passes to meet him afterwards.